Weddings and Events at Bella Collina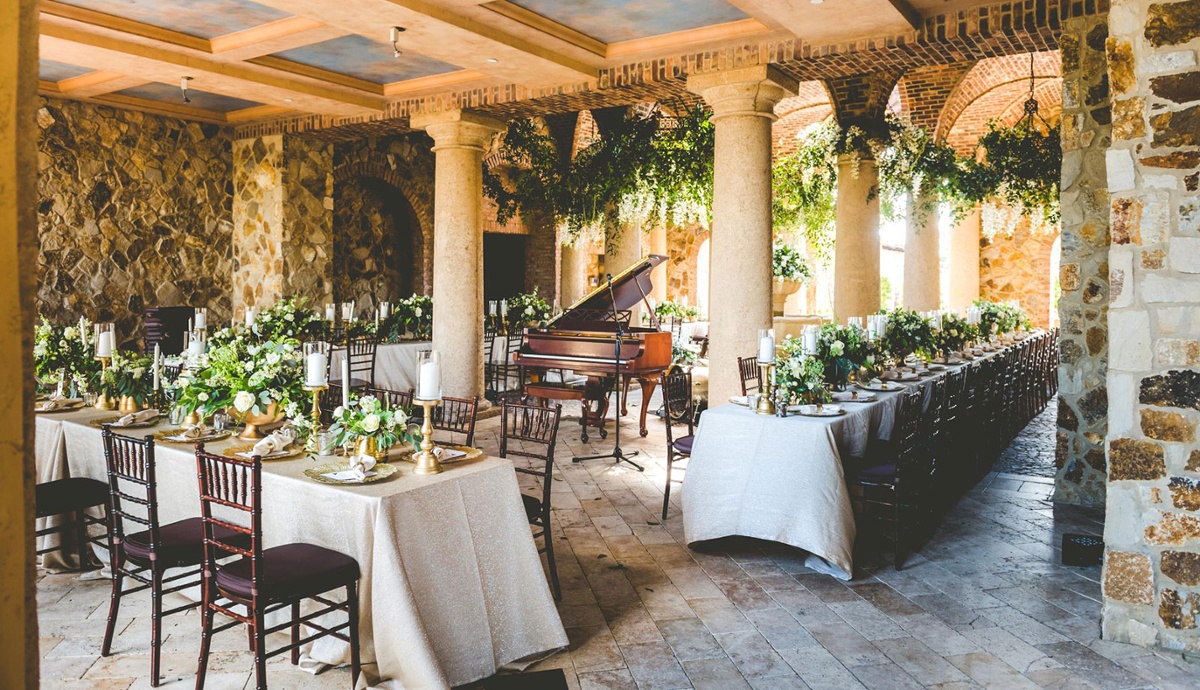 From the moment one arrives at Bella Collina's acclaimed 75,000-square-foot clubhouse and looks out at the sweeping golf course and lake views, it is quickly evident there is something special about this private Tuscan-inspired resort-style community. And a true sense of escape.
Indeed, the hilltop "Castle" as the clubhouse is affectionately called, what with its labyrinth of authentic eye-pleasing plazas, fountains, terraces and dramatic barrel tile ceilings imported from Italy, makes many members, residents and guests feel like they've been truly transported to the heart of Tuscany. This unique venue – and peaceful setting just 30 minutes from Orlando – is one of the main reasons Bella Collina is such a popular place to live, work and play.
Now, it's become one of the country's leading places to get married from intimate ceremonies among close friends and family to lavish large-scale affairs with upwards of 250 guests.
"Bella Collina provides our couples the opportunity to host their celebration in a location and setting that gives the impression of a destination wedding without leaving the country," says Dana Acevedo, Bella Collina's director of sales and catering. "Our couples immediately fall in love with our romantic Tuscan setting for a picture-perfect backdrop. It sets their wedding day apart."
No wonder Bella Collina is perennially rated one of the premier wedding venues in the world. Among the many accolades: The Knot magazine, as voted by the public, bestowed Bella Collina with "Best of Weddings" from 2013-2018 (as well as being placed in The Knot Hall of Fame), and Orlando Magazine recognized the private club community with "Best of Wedding" status in 2014 and 2017-18, as well as "Best Event Venue for South Lake County in 2018."
The Setting: Besides the picturesque setting, what also makes Bella Collina's signature "Castle" so desirable as a wedding destination is its versatility in offering several scenic options for cocktail hour, the actual ceremony, and/or reception. For instance, the Grand Lawn offers gorgeous views of the manicured Sir Nick Faldo-designed championship golf course and luxurious lakefront estate homes. The Center Circle is another top choice for a larger wedding, giving guests a stunning glimpse of the facility's Old World architecture and surrounding landscape accented by tall slender Italian cypress trees and impeccable landscaping.
For those seeking a more intimate ceremony and reception, the Reflection Pool with distant views of the Orlando skyline, is where guests can enjoy cocktail hour and/or reception with elegant feasting tables and nearby fire pit. For the ultimate Tuscan-like immersion, Bella Collina's beautiful bell tower and its ivy-covered stone walls and quaint wishing well, is a popular place.
The club can even make arrangements for the ringing of a Cathedral-type bell to signify the beloved union. Back indoors, Bella Collina has yet even more options for matrimonial moments.
There's the Formal Ballroom, which is perfect for summer weddings and large parties, the Atrium next to the club's spa and salon or the Clubhouse itself, which features three grand fireplaces, a lounge bar and wood-fire pizza oven, and spacious dining tables, all of course with that Tuscan design and décor.
The Amenities and Service: As if the setting alone won't put a smile on one's wedding day, Bella Collina welcomes wedding families to experience the club's world-class service and private club amenities leading up to the big day. For example, newly engaged couples can celebrate their engagements with family and friends with a brunch at the clubhouse, giving them an idea of how their dream wedding will truly taste and feel.
For entertainment or relaxation, perhaps there's a special group outing on the critically acclaimed championship golf course designed by Faldo, a six-time major championship winner and hall of fame golfer. Or special manicure and/or massage in the club's spa and salon, which features five treatment rooms, relaxation lounges, and a full-service salon.
Bella Collina's various wedding professionals can also help future brides and grooms in selecting everything needed from the date to the flowers to the dessert. And Acevedo encourages the couple to experience "An Evening of Wedding Bliss," Bella Collina's uniquely crafted culinary menu-tasting event.
Couples and guests with food allergies and/or health concerns will find that Bella Collina can easily accommodate anyone's needs, as well as themed weddings whether they be religious or cultural.
"We have already produced multiple Indian weddings with different styles of baraats (groom's entrance)," Acevedo notes. "I take great pride in the effort we place in ensuring we incorporate as many traditional elements through our cuisine, as this is the most important part of many cultural weddings. I personally work with clients to find ways to source and produce authentic appetizers or beverages for that personal touch."
Wedding Day: Due to its private nature, most wedding parties feel like they have Bella Collina all to themselves. Not to mention it's scheduled that way to ensure there is wedding exclusivity and club member support. And rest assured Bella Collina's attention to all matrimonial details, however small or large, will make this a relaxing and memorable occasion. Whether it's having hours of reserved time for one's ceremony and reception to full in-house catering, or things like event set-up services to even complimentary cake-cutting, the happy couple and their guests can enjoy the celebration of the day without worrying about anything behind the scenes.
"Since Bella Collina is laid out in such a way that couples can use almost every area of the clubhouse grounds for each sequence of events," Acevedo says. "we only host one wedding per evening. From the moment you select Bella Collina you know it will be an experience from the beginning until your wedding day, with memories that last a lifetime."
Contact us for more information about our weddings and events.