Sir Nick Faldo & Saudi Golf Federation Unveil Major Champions Invitational Partnership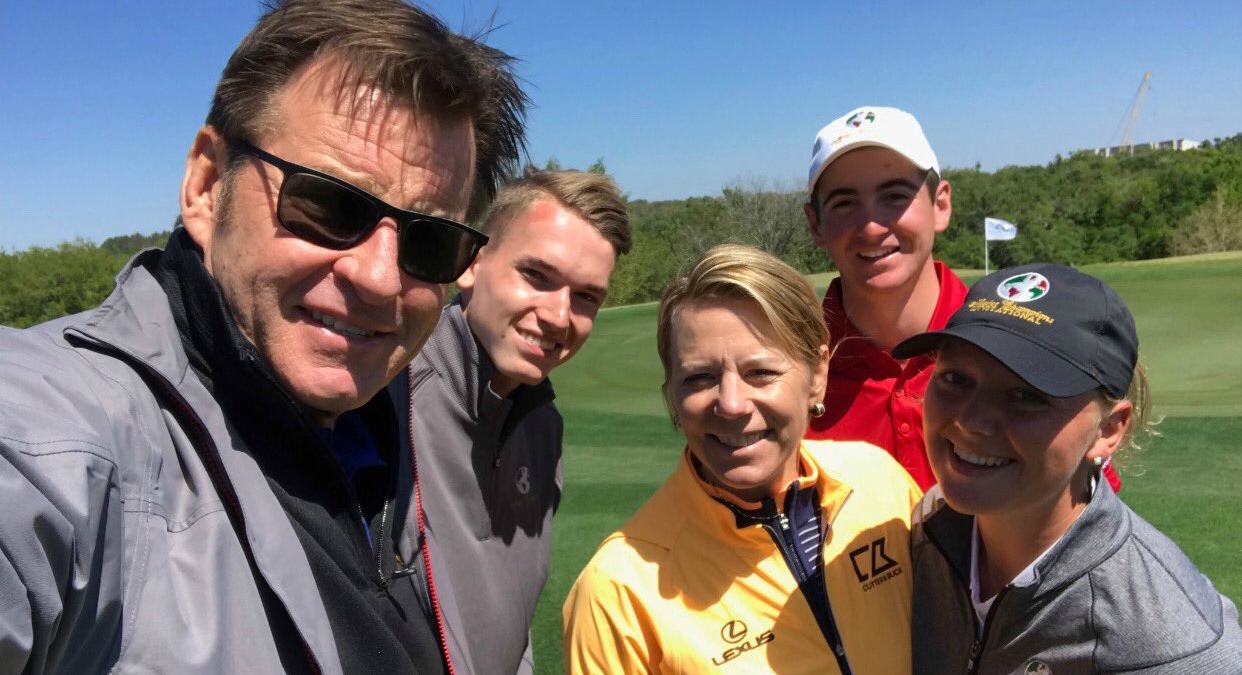 SIX-TIME MAJOR CHAMPION UNITES WITH NEW PARTNER TO DRIVE JUNIOR GOLF


Riyadh, Saudi Arabia, March 6, 2019; A new partnership was announced today in Riyadh between Golf Saudi, the group mandated to develop the game in Saudi Arabia and the Major Champions Invitational (MCI), one of the world's most unique junior golf championships, competed March 6 – 8 2019. The Invitational event is the brainchild of Sir Nick Faldo, who is regarded by many as one of the most prominent investors in grassroots golf and strives to provide opportunities to young people through golf and help identify the next generation of champions. The MCI will host 72 juniors, bringing together a throng of Major Champions, who select two boys and girls as their representatives, to compete in the professionally-managed tournament, giving players a glimpse into what competing at the top-level is like.
"We are delighted to be able to announce our new partnership with Golf Saudi, as it will allow us to build for years to come on the momentum of the event offering a global competitive experience," commented Sir Nick Faldo. "Saudi Arabia has taken significant steps to introduce the game at grass roots and this partnership will assist both sides in delivering positive impact in supporting the game and giving juniors a unique experience and insight as to what it takes to play at the top-level."
18 Major Champions have lent their support to the MCI, with the likes of; Jack Nicklaus, Brooks Koepka, Tom Watson, Annika Sorenstam, Adam Scott, Jordan Spieth, Henrik Stenson and Ariya Jutanugarn committing their names and teams to the initiative. Golf Saudi, who earlier this year hosted the inaugural PGA European Tour Saudi International presented by SBIA, which was won by current World Number 2 Dustin Johnson, have unveiled an ambitious strategy in golf, in which the development of the junior game is a key pillar. The nationwide strategy will see them develop 13 golf courses by 2030 and build mass participation and elite level programs, as a catalyst of Vision 2030 and a champion of a modern Saudi lifestyle.
"Sir Nick Faldo is a true legend of the game; both on and off the course," commented Majed Sorour, CEO of the Saudi Golf Federation. "He has pioneered work at a junior level and his Faldo Series and the MCI are blueprints we want to align with and build into our own grass roots development plans. This is the first step for Saudi Arabia's new relationship with Sir Nick and his team and we are proud to be a partner."
The MCI will be taking place at Bella Collina in Florida, USA and host 72 under 18 players in a three round WAGR counting stroke play championship. Over the course of the week, the juniors will experience first-class treatment, as they would receive at a professional golf tournament, and enjoy unique, once-in-a-lifetime activities after each round. These include a golf clinic with Sir Nick Faldo and Q&A's with major champions.
About the Major Champions Invitational
The Major Champions Invitational is a tournament created by World Golf Hall of Fame member and six-time major champion Sir Nick Faldo. An extension of the Faldo Series, the event provides major champions an opportunity to mentor and inspire the next generation of players while giving back to the game. The event will be played March 6 - 8, 2019 at Bella Collina in Montverde, Florida. Proceeds from the event will benefit the Faldo Trust for Tomorrow's Champions Inc. - a U.S. 501c3 organization. For more information, visit MajorChampionsInvitational.com.
About Bella Collina
Bella Collina is a 1,900-acre Private Club Community in the rolling hills of Central Florida, just west of Orlando. Widely known for the Nick-Faldo designed golf course and the iconic 75,000 square-foot Tuscan-inspired clubhouse, Bella Collina is one of the finest private clubs and waterfront communities in the world. Golf Villas from the $700,000s and one acre custom home sites starting in the $200,000s are available. Bella Collina is owned and operated by DCS Investment Holdings, a private equity group based in West Palm Beach, Fla. The company is owned by Dwight C. Schar, co-owner of the Washington Redskins and founding chairman of NVR Inc., one of America's largest homebuilders. To learn more about Bella Collina, visit BellaCollina.com.
Contact
Jeff Kleiber, Executive Director
jeff.kleiber@octagon.com or 919.582.6250

Gabe Hubbard, Senior Marketing & Communications Coordinator
Gabriel.hubbard@octagon.com or 919.582.6255

Useful Links
MajorChampionsInvitational.com
NickFaldo.com

Social Handles
Twitter | @MajorChampions
Instagram | @MajorChampions
YouTube | Major Champions Invitational