Destination Overview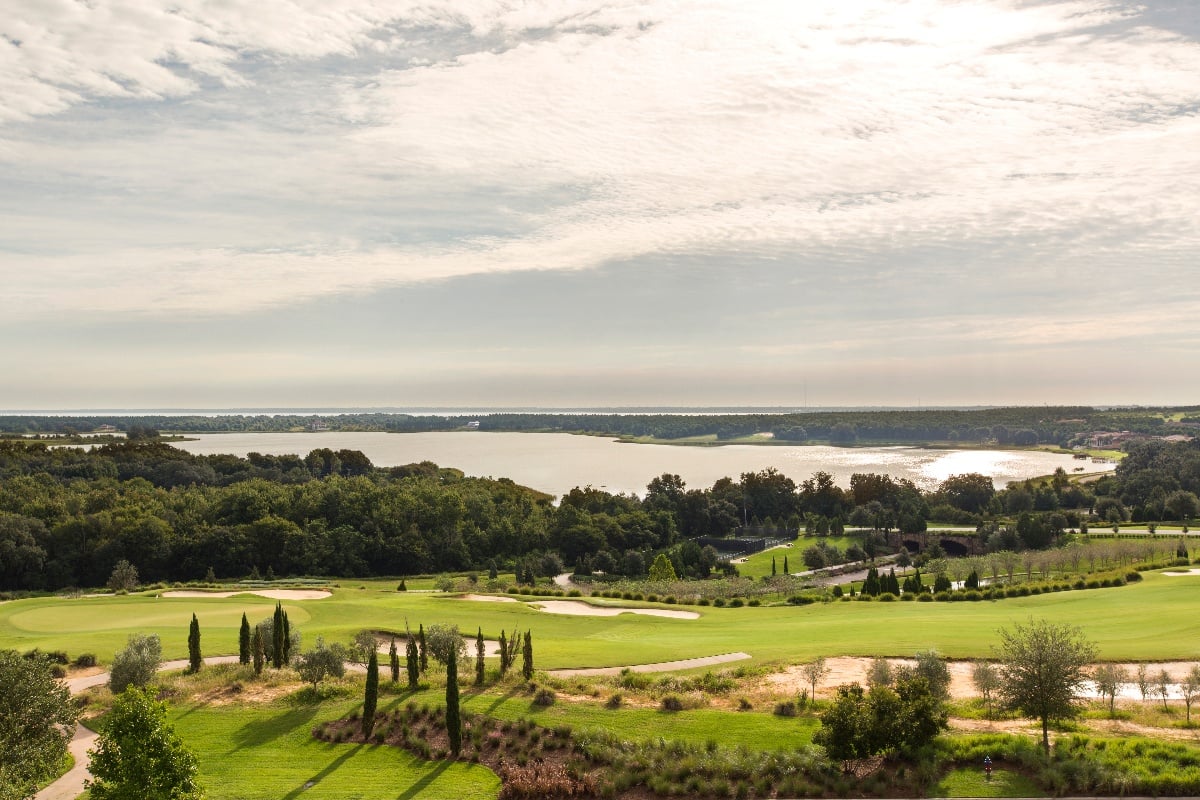 Located less than 30 minutes from the heart of Orlando, Bella Collina is peacefully situated in a country-like setting in the quaint town of Montverde. Known for its rare rolling hills, lovely chain of lakes and coast-to-coast running and biking trails, this pocket of Florida – an area locally known as South Lake County -- is recognized worldwide for its endless wellness, fitness and outdoor pursuits.
This rare Florida landscape, encompassing the towns of Montverde, Minneola and Clermont, is one reason thousands of collegiate, professional and Olympic athletes and sports enthusiasts train year-round in this area. The City of Clermont, which is home to the National Training Center and recently named one of the Top 20 Cities in America, is one of the main places athletes of all shapes, sizes and ages train.
At one time, the national governing body for the U.S.A. Triathlon Association used Clermont's South Lake Hospital as a base for its national training center and headquarters, which explains to this day why Clermont is officially known as the Choice of Champions.
Now, South Lake County is where a limited number of families are discovering Florida's newest private golf and lakefront community: Bella Collina. What is so remarkable about Bella Collina is the sense of escape one gets in this 1,900-acre low-density development, yet it is just minutes from the heart of Orlando's world-class theme parks, arts and entertainment venues, shopping and dining.
Indeed, Bella Collina is more than a place to call home. It is a destination. That explains why more than 150 weddings are held each year at this picturesque resort-style community.
Bella Collina's owners spared no expense in creating the ultimate private resort-style community – both for member-residents and guests - and the club's 75,000-square-foot Tuscan-inspired clubhouse is indicative of this commitment. Featuring dramatic barrel tile ceilings imported from Italy, intricate stonework custom crafted from Italian experts and a labyrinth of eye-pleasing plazas, fountains, terraces and woodwork, the award-winning clubhouse and its multiple dining venues and event space, spa and salon and private wine cellar is truly reminiscent of Old-World architecture and charm.
Sitting atop one of Florida's highest points, the iconic clubhouse gloriously watches over the Tuscan-inspired village of luxury condo and single-family golf and estate residences and private 350-acre Lake Siena and massive Lake Apopka in the distance, the state's third-largest lake at 30,000 acres. Meanwhile, between sparkling lake views and the Orlando skyline in the horizon, a championship course designed by Hall of Fame golfer Sir Nick Faldo offers an inviting glimpse of golf just below the clubhouse veranda. Besides having Florida's only course designed by Faldo, Har-Tru tennis courts, Sportivo Centro's state-of-the-art health and fitness facility and a world-class resort-style pool complex round out the private resort-style community's amenity landscape.
For those seeking a permanent address in this private community planned for just 900 homes, Bella Collina offers a range of real estate options from semi-custom villa homes on the golf course to custom estate section homes on preserve or lakefront homesites. Additionally, the newly launched Siena at Bella Collina, a pair of mid-rise towers that overlook Lake Siena, is a luxury condo project featuring 100 turnkey, maintenance-free condo homes.