8 High-End Flooring Options for Luxury Homes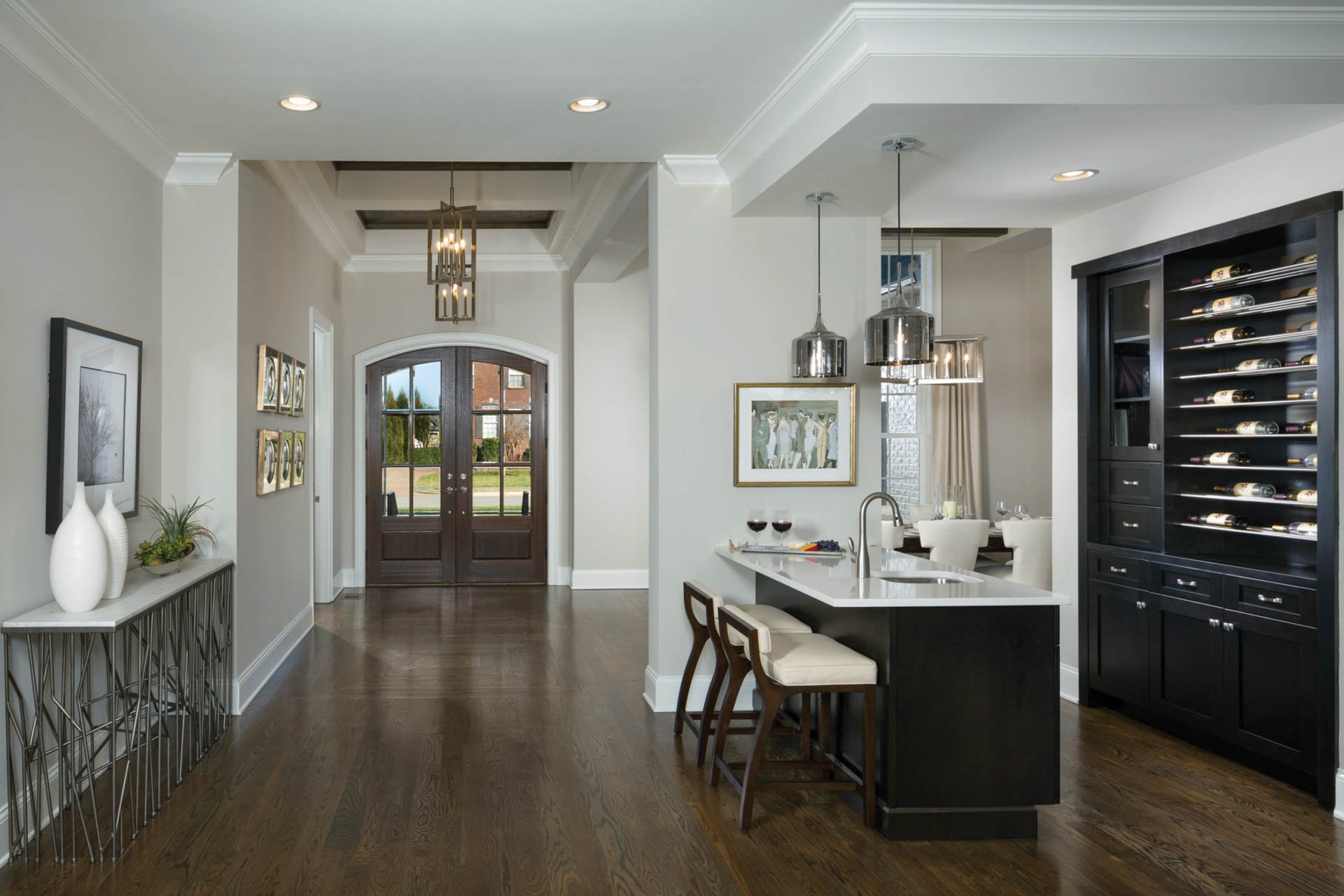 A cohesive interior design for a luxury home starts with a flooring strategy that balances beauty with function. You and your builder have many flooring options from both domestic and international sources.

Any of the following products will produce impressive results. The main challenge is choosing the best combination of materials for your purposes that suit your personal taste.
1. Natural Stone Flooring
There is no discussion of luxury flooring without talking about natural stone. Its polished surface and organic grains or swirls instantly summon thoughts of ancient temples and palaces.

The timeless beauty and durability make it a high-end choice, but the cost of materials and installation add to the prestige of a room floored in gleaming marble or granite.
The weight of the stone requires extra effort to quarry, process, and ship to the build site. Anyone who looks at a stone floor knows that the homeowner purposefully invested in premium material.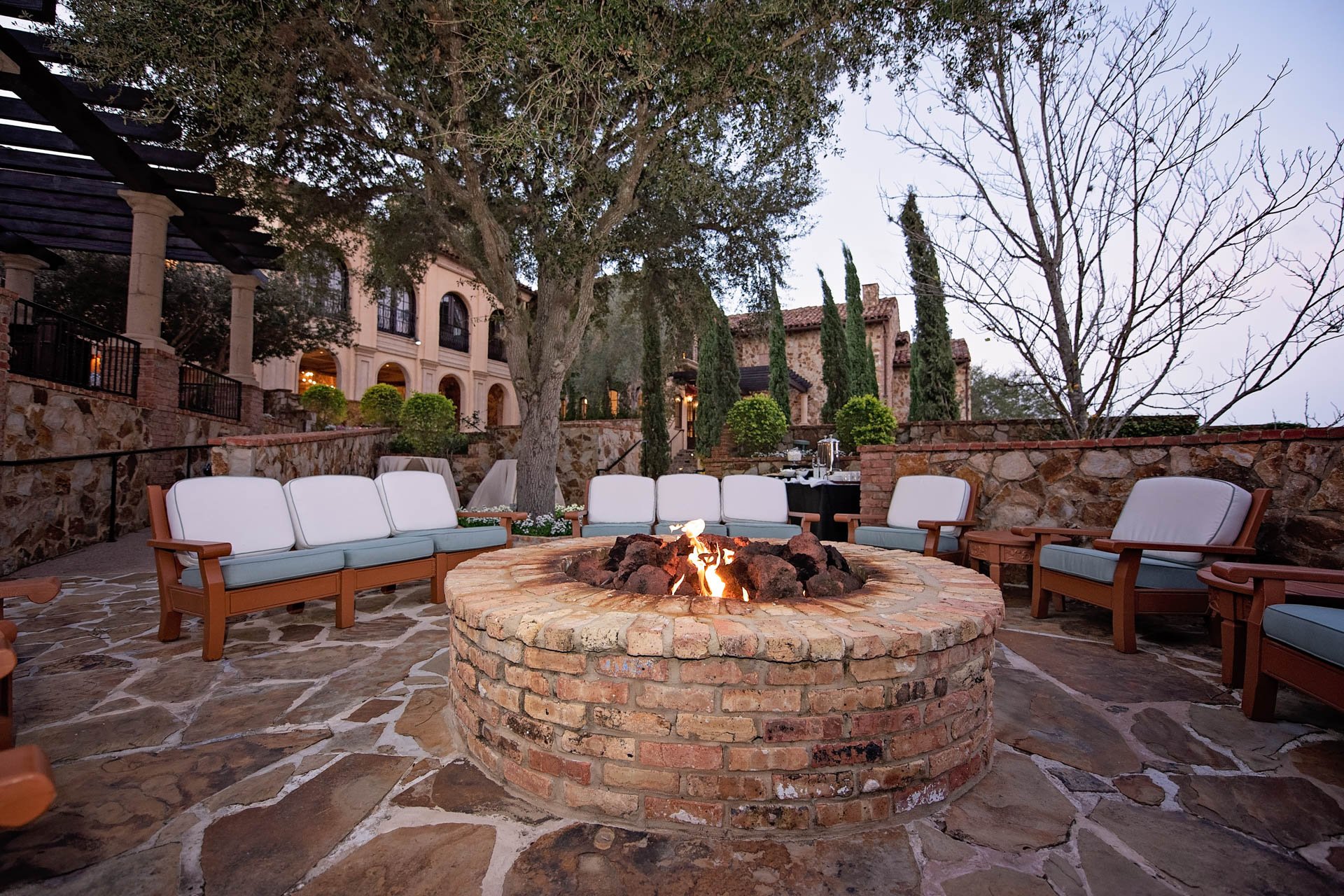 Types of stone flooring:
Marble
Granite
Travertine
Quartzite
Sandstone (for outdoor applications)
Stone flooring is often selected for:
Kitchens
Baths
Entries
Patios and pool decks
Marble is a traditional choice for luxury baths. It is easy to maintain with sweeping and damp mopping.

This lovely stone, however, is not overly hard and is vulnerable to scratches. A bath environment remains suitable because it's not a room where you tend to move heavy furniture and people's feet tend to be bare or in slippers.

Granite comes in many colors and has legendary durability. It resists scratches and scorching, making it popular in the kitchen although it can look gorgeous in other rooms.

Travertine is similarly tough and a great choice in kitchens, baths, and entryways.

When you want the durability and shine of stone but desire a subdued stone pattern, quartzite comes to the rescue.
Geological forces create quartzite by subjecting sandstone to long-term heat and pressure. The result is a stone as tough as granite that produces floor tiles ready to withstand busy traffic.

As for regular sandstone, it's an ideal choice in areas exposed to the outdoors, like patios and pool areas.
2. Exotic Hardwood Flooring
Exotic hardwoods are often the foundation of stunning interiors with their rich colors and unique grains.

This flooring is derived from species around the world. You'll have many exciting choices beyond the oak and maple commonly used on floors throughout North America.

Some examples of exotic hardwoods are:
Brazilian cherry
Tigerwood
Kempas
Sapele mahogany
Australian cypress
Ipe (Brazilian walnut)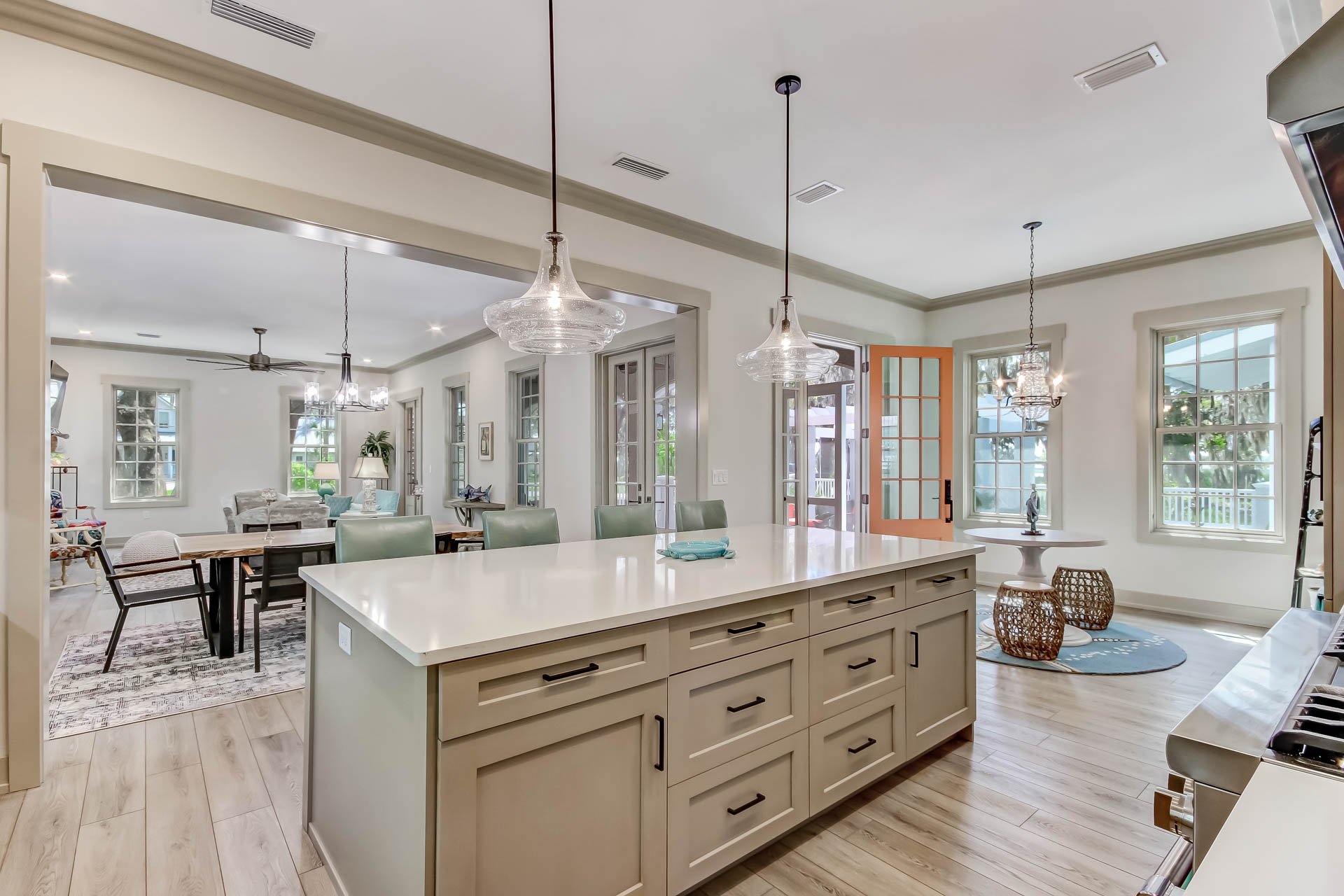 Limited supply and long travel distances naturally drive up the prices of exotic hardwood flooring. To avoid illegally harvested wood, you'll want to source flooring from companies within the Forest Stewardship Council and Sustainable Forestry Initiative.

Although you'll need to select a reputable supplier, the traits of these tree species are highly sought after for luxury homes.

Exotic hardwood flooring is in demand due to:
Wide wood grains
Brilliant colors
Mix of light and dark colors
3. Designer Ceramic Floor Tiles
Tile flooring is durable and comes in an almost limitless choice of colors and patterns. It is ideal in hot climates due to its cool feeling under the feet.

With its water resistance and easy maintenance, tile is a popular choice in:
Kitchens
Baths
Entries
Laundry rooms
Hearth areas
That said, ceramic tile can work in almost any room and can be paired with area rugs when you need to soften hard surfaces or create a cozy area.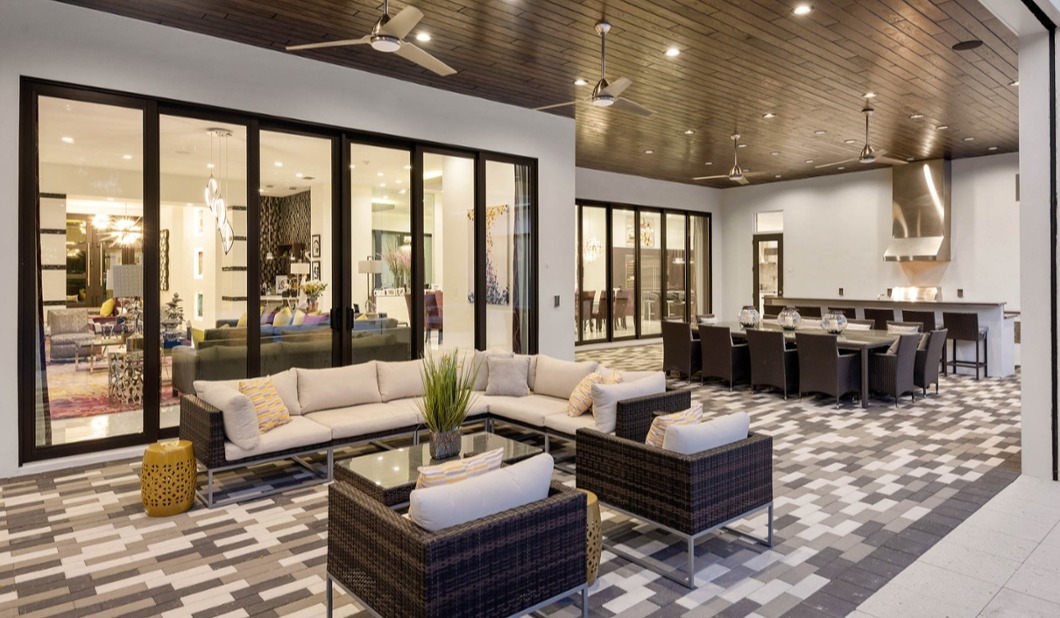 You could get overwhelmed choosing tile due to the abundance of choices, such as:
Designer Italian tiles
Handmade tiles
Reclaimed antique tiles
Glass tiles
You can even commission one-of-a-kind tile floor mosaics from artists. Designers typically choose custom mosaic floors as a statement piece in an entryway or bath.
4. Hand-Scraped Wood Flooring
Hand scraping is a finishing method that replicates a vintage look as if a woodworker cut the plank with hand tools. The effect produces a floor with visual depth and interest.

The character of hand-scraped flooring can work exceptionally well in home interiors that are going for a farmhouse or old manor aesthetic.

Beyond beauty and unique style, this type of flooring is durable and an acceptable choice for heavy traffic areas. It can take a beating from pets running around. Scratches and scuffs that might build up over time actually add to its vintage charm.
5. Reclaimed Hardwood Flooring
If you really want to go for an old school vintage look and be environmentally friendly, then choose reclaimed hardwood flooring. You get durable wood planks that have already withstood the test of time without cutting down a single tree.

Specialty companies salvage fantastic woods from old buildings, barns, and factories to repurpose them for use in new homes.

These planks will feature a few scrapes and blemishes but for the most part provide you with heavy-duty flooring from a time when things were "made to last."

You'll encounter a wide selection of North American tree species, such as:
6. Luxury Vinyl Tiles or Planks
At first glance, you might think of vinyl flooring as low-end, but manufacturers now produce high-end vinyl flooring tiles or planks that adapt to many uses in a luxury home. They produce the flooring in a huge array of colors and patterns, some of which mimic stone or wood finishes.

A reason to choose vinyl tile is that it feels warmer under the feet than ceramic or stone tile. You may value this product most in utilitarian rooms, like a laundry or workout gym.

Luxury vinyl flooring appeals because of:
Slip resistance
Durability
Easy maintenance
7. Cork Flooring
Environmentally conscious people favor cork flooring because this wood product is harvested without killing the tree. Style wise, its look is subdued and organic with an almost neutral beige color.

Traits of cork that make it popular are:
Hypoallergenic
Shock absorbing to feet
Mildew resistant
Renewable material
Sound absorbing
Shock absorbing
To maintain cork flooring, you'll want the installer to seal it with polyurethane.
Sealing, however, does not protect this flooring entirely. The softness of the material leaves it vulnerable to dents or impressions left by heavy furniture. This characteristic, however, is what makes it stress relieving on the feet when standing for long periods.
8. Bamboo Flooring
The bamboo plant presents another natural flooring option that is gentle on the land. Large bamboo species grow quickly and regrow after harvesting.

Flooring made from this durable plant fiber looks somewhat like wood but with a very straight and narrow grain. You can choose this material in its natural coloring or opt for more colorful options because bamboo takes stain nicely.

When you're looking for something a little different, you might consider bamboo flooring. It has a clean look but is not as tough as stone, tile, or hardwood.
Custom Home Builders at Bella Collina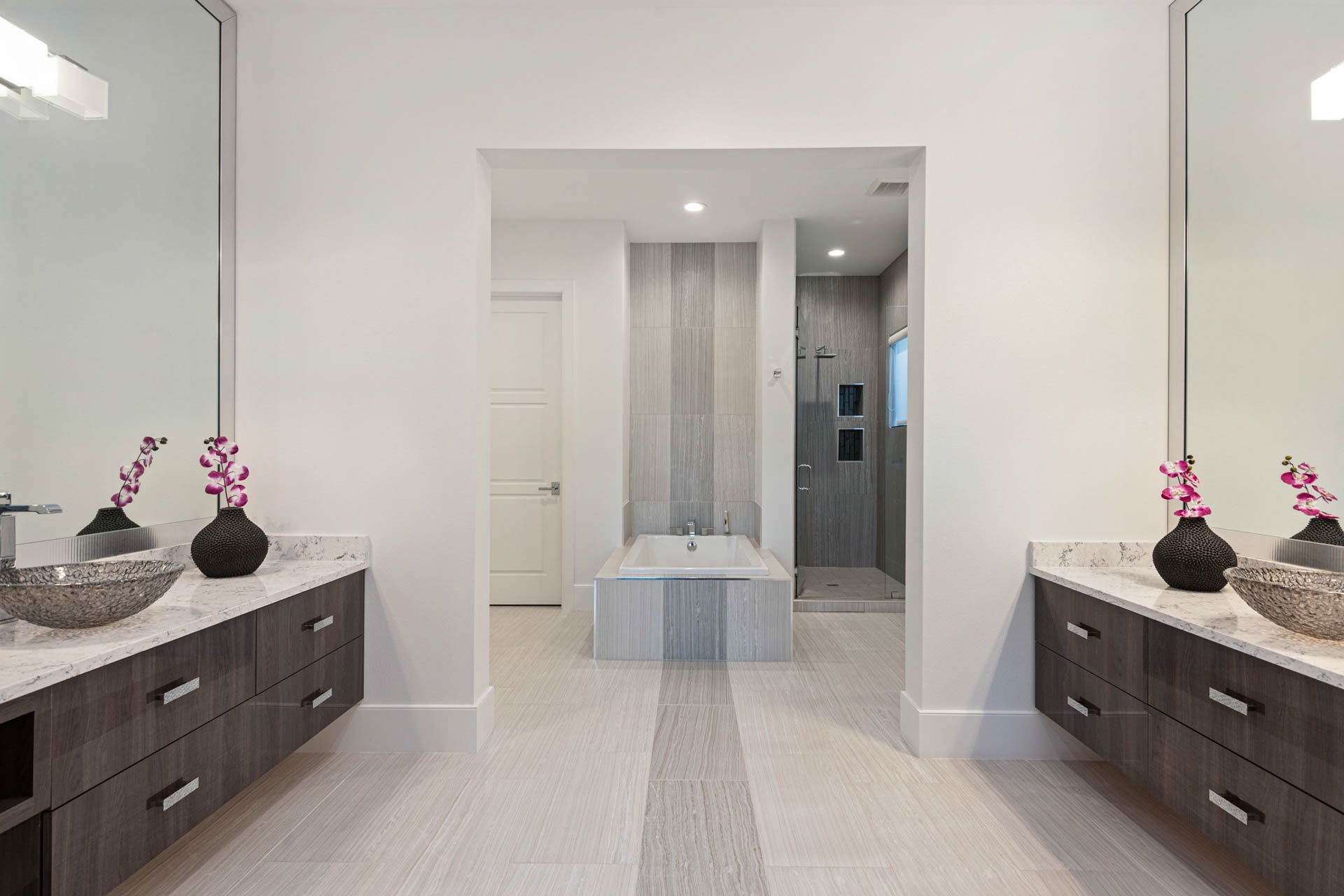 Flooring is only one aspect of building a custom home. The award-winning custom home builder partners at Bella Collina can help you sort through your options and make the best choices for your new home.

The private golf community of Bella Collina provides a stunning setting for a new luxury home in Central Florida. You'll live amid 1,900 acres of green rolling hills that is only a short 30-minute drive from Orlando.

Our community features amazing amenities, including:
Sir Nick Faldo signature golf course
Clubhouse
Wedding and events venue
Fine dining
Tennis
Swimming
We're always excited to answer questions about real estate at Bella Collina. You'll love living here year-round or part-time. To get started, learn more about our custom builders or contact us today for a tour.