8 Exquisite Central Florida Lakeside Communities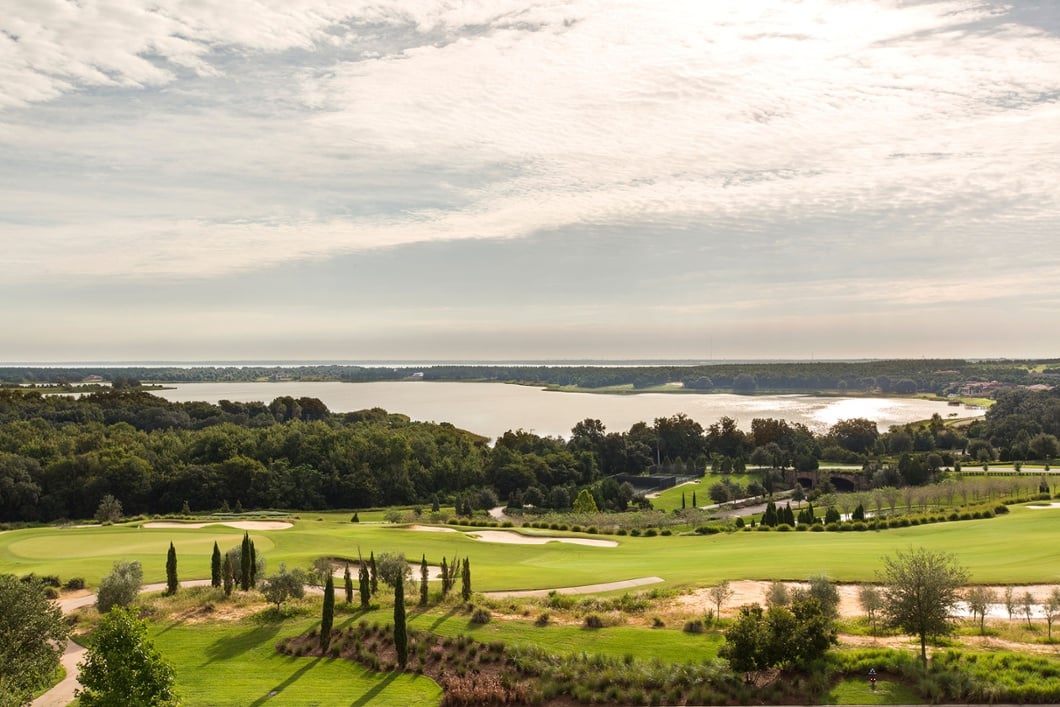 Florida, the coastal gem of the southeast, is embraced by both the Atlantic Ocean and the Gulf of Mexico. But aside from its coastal beauty, Florida boasts an impressive array of lakes – over 7,000 to be exact. The many lake options make waterfront living in Central Florida an irresistible draw for many.
With lakefront living available throughout the state, it's no wonder people flock from all over the country to the beautiful Sunshine State. If you're keen on living by the water's edge in Florida, check out this list of top spots.

1.
Bella Collina, Monteverde
Bella Collina is the epitome of luxury lakeside living and offers an unparalleled lifestyle experience. Located outside Orlando and all of its fun and excitement, Bella Collina is a private gated community enveloped in magnificence.
Merely 30 minutes from Orlando, this gated marvel with two lakes stretches across almost 2,000 rolling acres, guaranteeing privacy, seclusion, and opulence. Whether an exquisite lakefront condo or a sprawling 6,000-square-foot villa, every home here oozes luxury.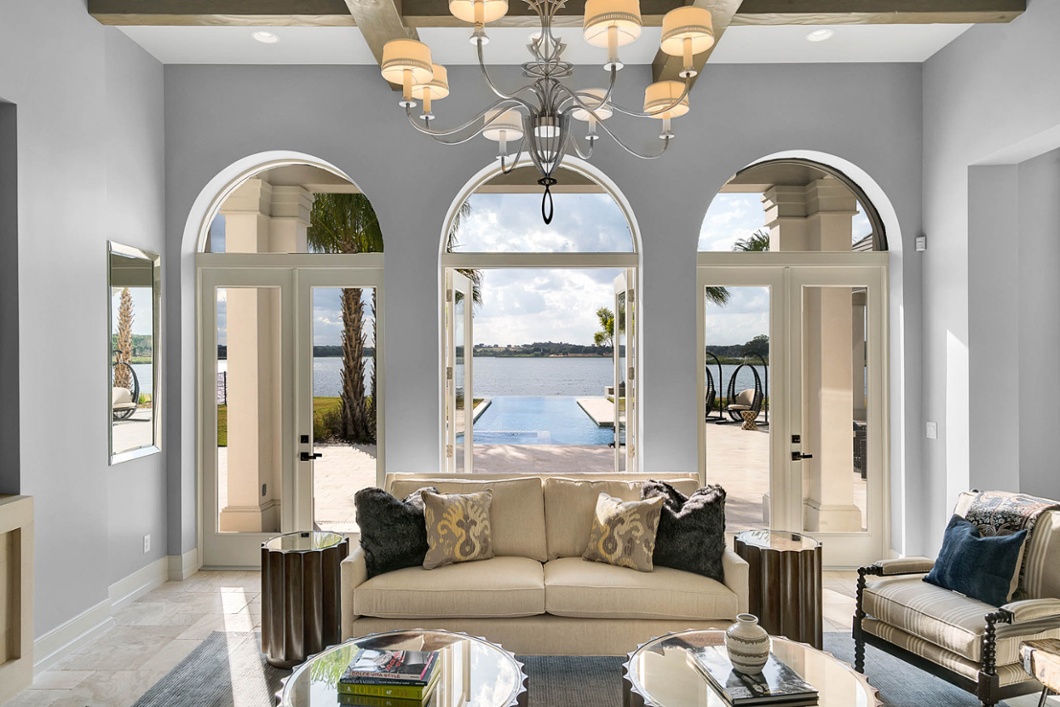 The community's crown jewel is its award-winning Sir Nick Faldo golf course. In addition to the championship golf course, other amenities include:
🎾 Tennis and pickleball courts
💆 Luxury day spa
🏊 Resort-style pool
⛳ Tuscany-inspired clubhouse
👰🏽 Wedding and event spaces
🍽️ Multiple dining options
🎣 Watersports
🚶🏼‍♂️ Walking and hiking trails
Bella Collina ensures that every day feels like a luxurious getaway. A tennis match at dawn, a spa retreat post-lunch, or a gourmet meal under the stars—every experience is tailored for exclusivity. As one explores the vast expanses amid the undulating countryside landscape, it becomes evident why Bella Collina is considered the pinnacle of lakeside luxury.
2.
Green Key Village, Lady Lake
Situated on the scenic lake for which the town is named, this charming Key West-inspired community sits in the heart of Central Florida. A short drive from downtown Orlando, the community champions sustainable homes with energy efficiency in mind.
Buy a resale or build your dream home on ½-acre lot options. Green Key Village blends the charm of sustainable homes with the allure of lakeside living.
3.
Stoneybrook West, Winter Garden
Overlooking Black Lake, Stoneybrook West offers single-family luxury homes amid a warm and welcoming environment. A golf course, community pool, fitness center, and tennis courts are just a few ways neighbors come together here. It's a lakefront community packed with fun amenities that bring residents together.
The community center is a hub for year-round events and programming. Stoneybrook West is an attractive option if you're looking for a lakefront community with a penchant for fun and activity.
4.
Villages of Citrus Hills, Tampa Bay
This gorgeous community couples an active lifestyle afforded by modern amenities with luxurious living. Residents can access freshwater lakes, a private golf course, tennis courts, a fitness center, onsite dining, and beyond.
Its diverse community catering to varied lifestyles and the Gulf Coast weather and location are a few reasons people choose Villages of Citrus Hills. With more than 20 home styles, there's a model for everyone, ranging from modest to opulent.
5.
Artistry Sarasota, Sarasota
Artistry is a gated community in the heart of Sarasota. With nearly a dozen models, homes range from 2 to 5 bedrooms. This community appeals to many, located close to entertainment hubs and offering amenities like a lakeside clubhouse, fitness center, and scenic walking paths. No matter your season of life, Artistry Sarasota can be a great place to raise a family or retire.
6.
Cresswind, DeLand
Nestled between Orlando and Daytona, Cresswind is a 55+ community designed for active adults. This brand-new gated community caters to active adult living. Despite its small-town vibe, this quiet and quaint city has a warm year-round climate, outdoor recreation options, great restaurants, and other attractions.
Homes sit adjacent to the shores of Lake Winnemissett with beautiful tree-lined views. With 13 diverse floorplans for new construction, residents can personalize their interiors to suit their tastes and lifestyles. Active adults living in Cresswind can choose from various amenities such as a fitness center, pool with sundeck, pickleball courts, social spaces, lake access, and water activities.

7
Alligator Lake, Saint Cloud
This freshwater lake in beautiful Osceola County is a fisherman's haven. Besides fishing, the lake is the perfect setting for hiking, nature observance, and watersports. If any of these pastimes sound appealing, a home on Alligator Lake may be just the ticket.
This non-gated community offers a medley of homes for every taste, ranging from cozy ranch-style to sprawling luxury abodes. Its proximity to Orlando ensures you're never far from the action.

8.
Lakeshore by Simple Life, Oxford
This adorable cottage community is up and coming in Central Florida. In prime proximity to Orlando and Ocala, Lakeshore's Oxford setting is central to shopping, dining, and entertainment. The quaint cottage homes are reminiscent of shore bungalows with their cozy and rustic simplicity. These cottage-style homes are perfect for downsizing, first-time home buyers, and retirees.
The Lakeshore by Simple Life community has excellent amenities, including a resort-like pool, active clubhouse, spacious fitness center, walking paths, sports courts, and access to Lake Andrew. Set between Orlando and Ocala, it promises a community-focused, simpler way of living.
Bella Collina - The Epitome of Luxury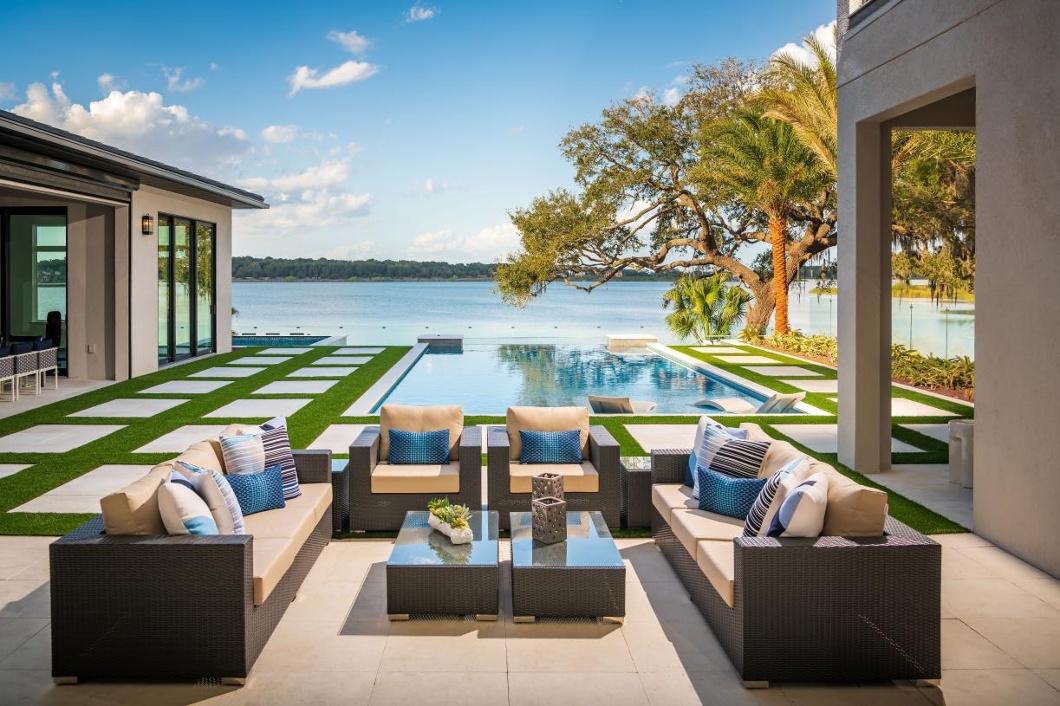 For the finest lakeside living in Central Florida, these communities stand out. But when thinking of unmatched luxury, look no further than Bella Collina. Dive into your dream home here and experience a blend of luxury, nature, and community like never before.
Reach out to the Bella Collina real estate professionals for more information.