16 Breakfast Nook Ideas to Complete Your Luxury Home Kitchen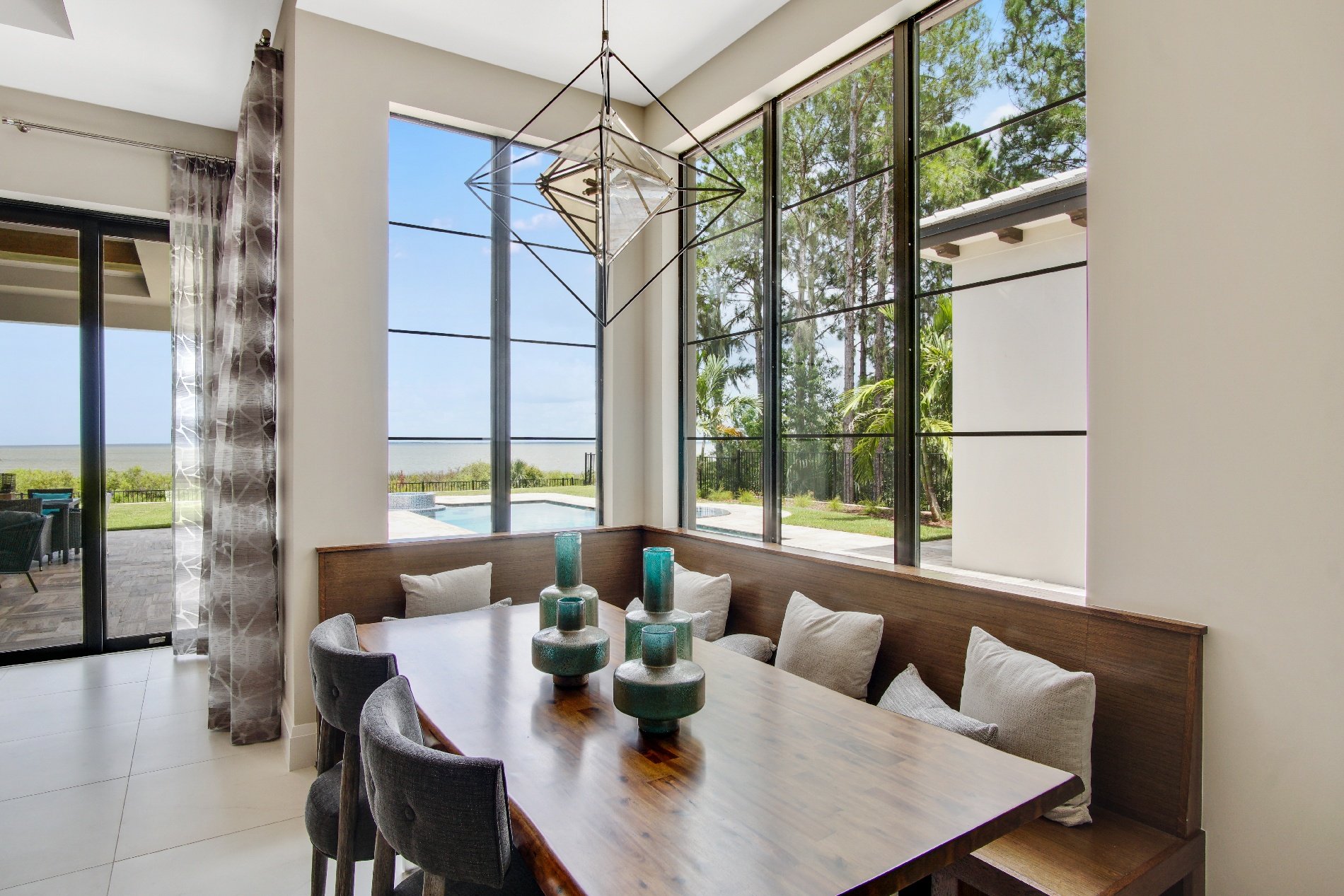 Creating the perfect breakfast nook can provide a tranquil setting to relax with a cup of coffee or enjoy a hearty home-cooked meal. Unlike a more formal dining area, a breakfast nook can incorporate more casual and eclectic design choices to brighten your mood and start your day off right. 
Here are some of the most modern and practical suggestions for creating the perfect breakfast nook for your home.
Add a Dash of Sophisticated Color
Crimsons, golds, and greens are excellent choices for your breakfast nook and offer flexibility to take this area of your home from morning to night seamlessly. By choosing sophisticated colors for cushions, wall treatments, and curtains, you can create a versatile space adapted for Sunday brunch, an intimate candlelight dinner, and everything in between.
Open

to the Outdoors
Windows are an integral part of the classic breakfast nook, allowing you to soak up the sun on lazy weekend mornings. The right location will even provide a beautiful view while enjoying your morning coffee or tea, helping to start your day off right.
Consult with an interior design specialist or local contractor to determine the best location for your breakfast nook. You can also discuss any structural changes you want, such as adding windows to help create the perfect morning retreat for you and your family.
Managing Indoor Temperatures
If possible, selecting a spot for your breakfast nook that gets sunlight in the morning and shade in the afternoon will help you stay cooler during the summer months. Choosing the right curtains is also essential to help block out heat and light when necessary. Making the right choices for location and window treatments can keep your home as comfortable as possible when temperatures rise during summer.
Location Is Essential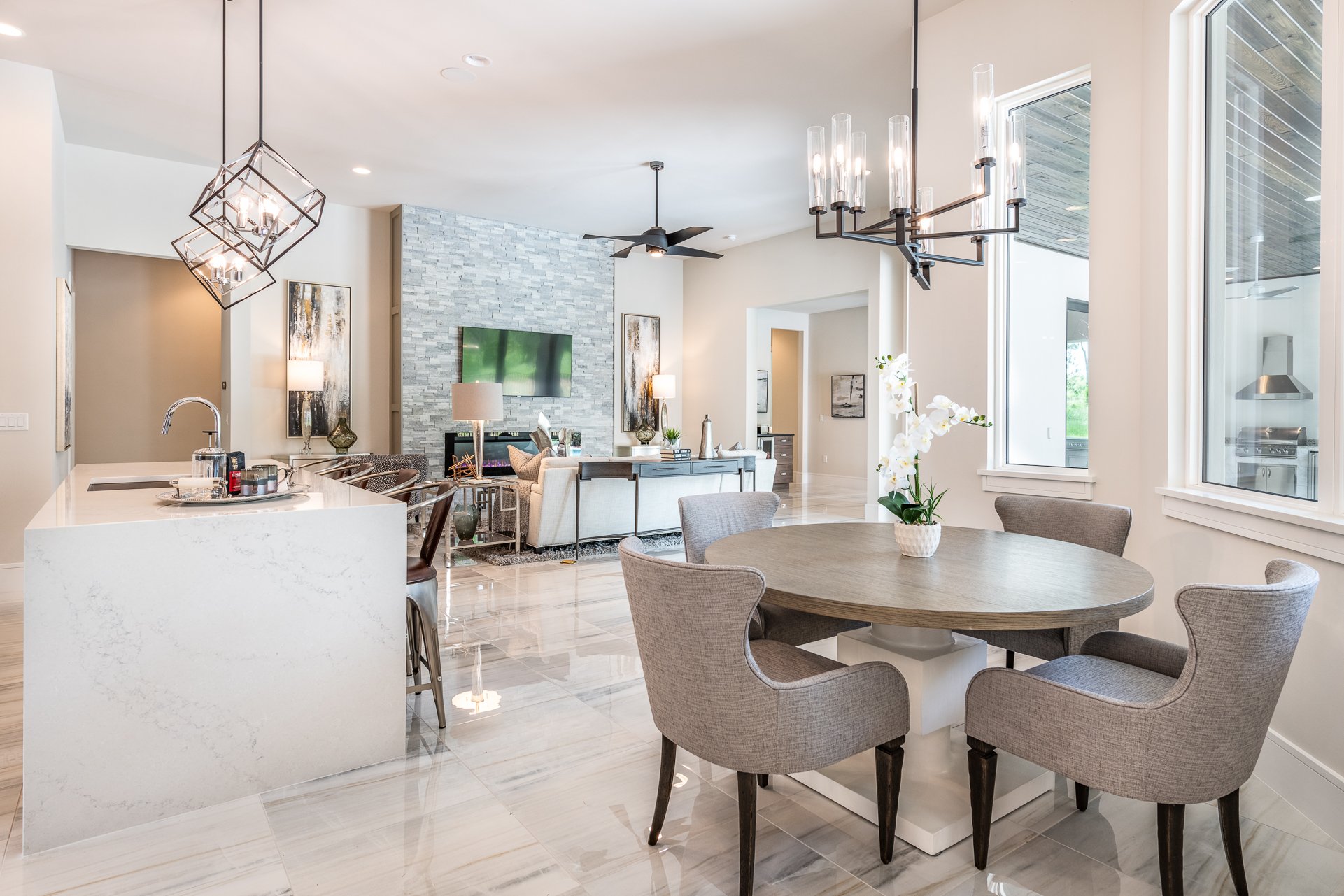 Like more formal dining areas, breakfast nooks should be located close to the kitchen for convenience. Professional contractors and remodeling companies can often provide you with detailed plans and proposals for incorporating a sunny breakfast nook into your current kitchen or dining space.
Include the Kids
When your breakfast nook is not in use for dining, it can be an excellent study center or play area for your children. Include thoughtful storage solutions, kid-friendly supplies, and furnishings into your design to make the most practical use of this area. By turning your breakfast nook into a multi-use space, you can keep an eye on your kids while managing other chores in the kitchen area.
Consider Built-in or Enclosed Breakfast Nooks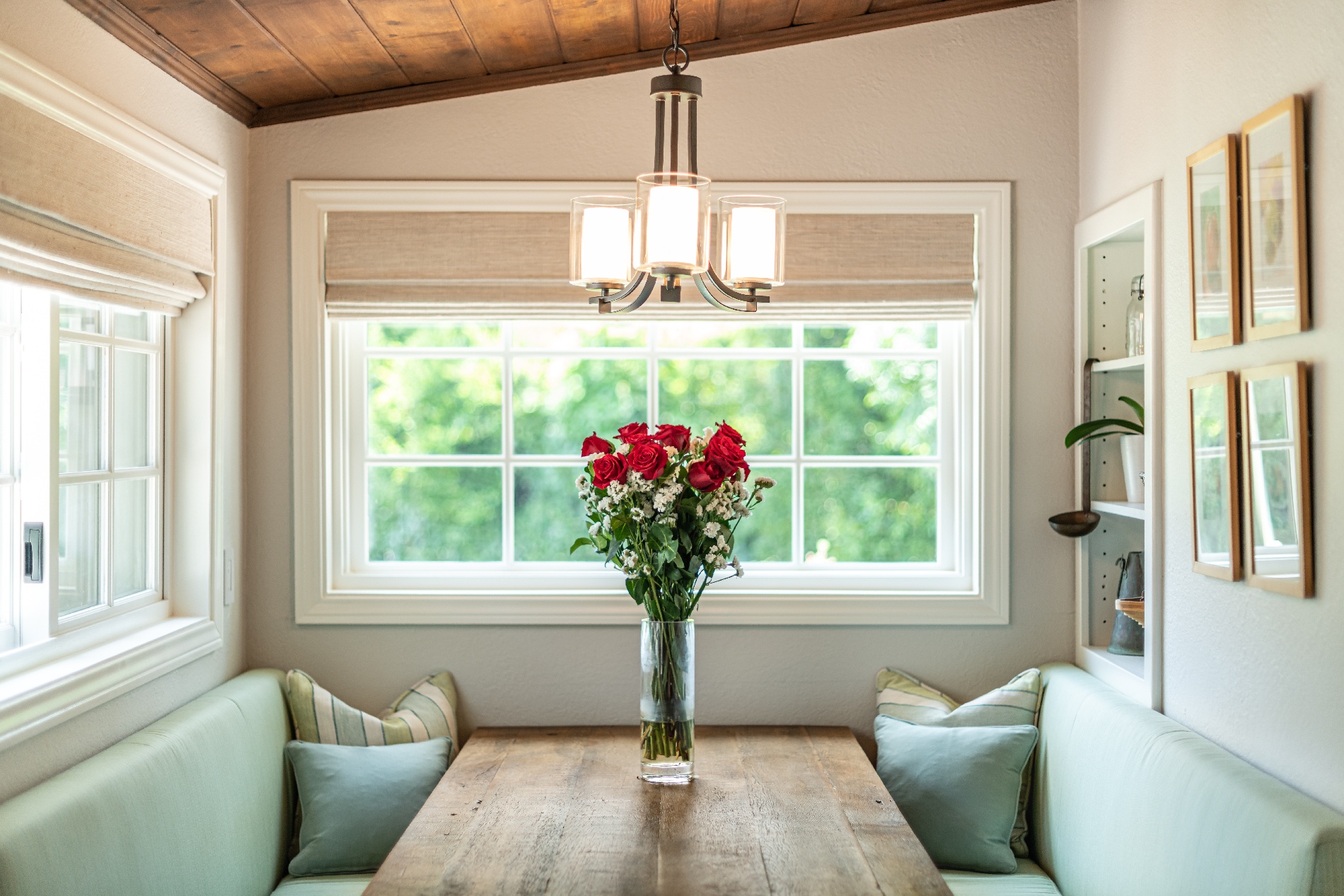 Depending on your breakfast nook location, you may be able to enclose it on two or three sides to create a more defined area. Working with a professional contractor or builder will typically provide you with the expertise and guidance needed to create the breakfast nook you want in the most practical way possible.
Dress It Up

w

ith Photos
Creating your little photo display or art gallery will give your breakfast nook a stylish and personalized touch. Choosing photos of significance to you and your family or artwork that suits your décor will help you apply your unique perspective to your interior design. If you have children, framing some of their most appealing artwork can turn your breakfast nook into a source of pride for the younger artists in your family.
Indulge in Pretty Patterns
Adding cushions or wallpaper in a pretty pattern or design will help set your breakfast nook apart from other home areas. Choose a design that complements your current interior décor to create a cohesive through-line for your entire home.
Bookcases
Bookshelves can be an outstanding addition to your breakfast nook. Whether you are interested in spy novels, mysteries, or cookbooks, including a bookcase in this area of your home will provide you with easy access while working in the kitchen.
If you can't add built-in bookcases, consider a freestanding style that matches the rest of the design style. 
Go Minimal with Black and White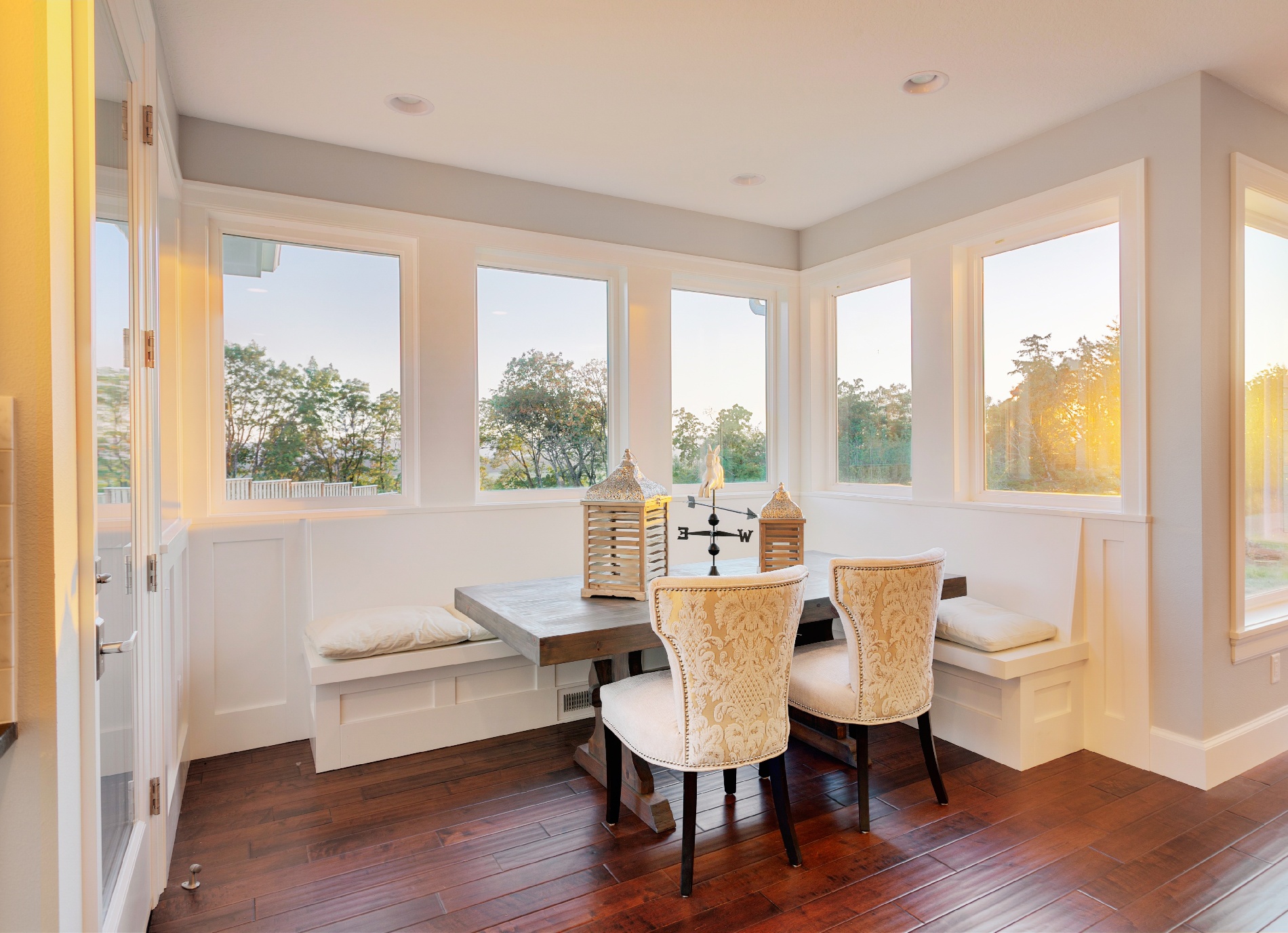 Do you prefer a minimalist design? Use black and white photos, line drawings, and simple furnishings to define your breakfast nook. 
Add metallic accent pieces for a stunning and cohesive look. Metal mixes beautifully into a black and white interior theme.
Scale Down in Size
Your formal dining room may need space for eight or more people at the table. However, by its very meaning, a nook is smaller and more secluded. Choose a smaller table and seating for fewer people to create the most idyllic and personal setting for this compact space.
Take care not to make it too full of furnishings, or it might feel overwhelming small. 
Consider the Rustic Look
If you are a fan of farmhouse chic, rustic furnishings, and wall treatments could be the perfect solution for your breakfast nook. A simple table, wood-paneled walls, and red-and-white-checkered kitchen curtains could make this area of your home something extraordinary for your family and guests.
Add

Space with Benches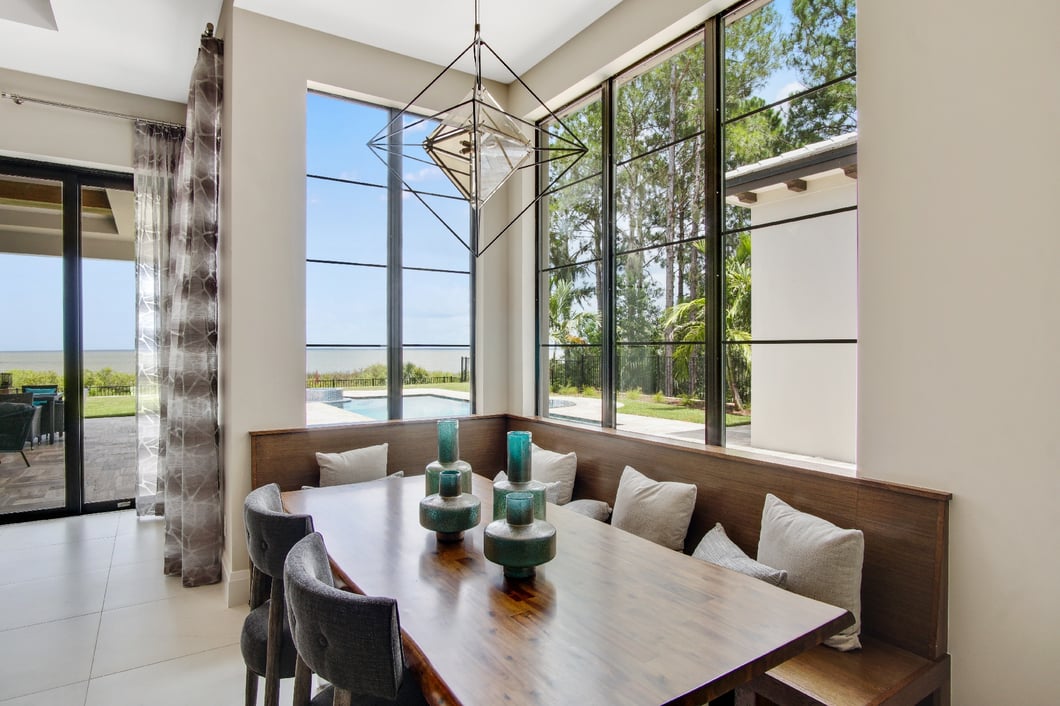 Built-in benches are an ideal solution for seating in your breakfast nook. These practical furnishings can also perform double duty as storage areas for your home.
Best of all, benches provide a natural separation for your breakfast area without reducing visibility or requiring extensive carpentry work.
Opt for Suspended Lighting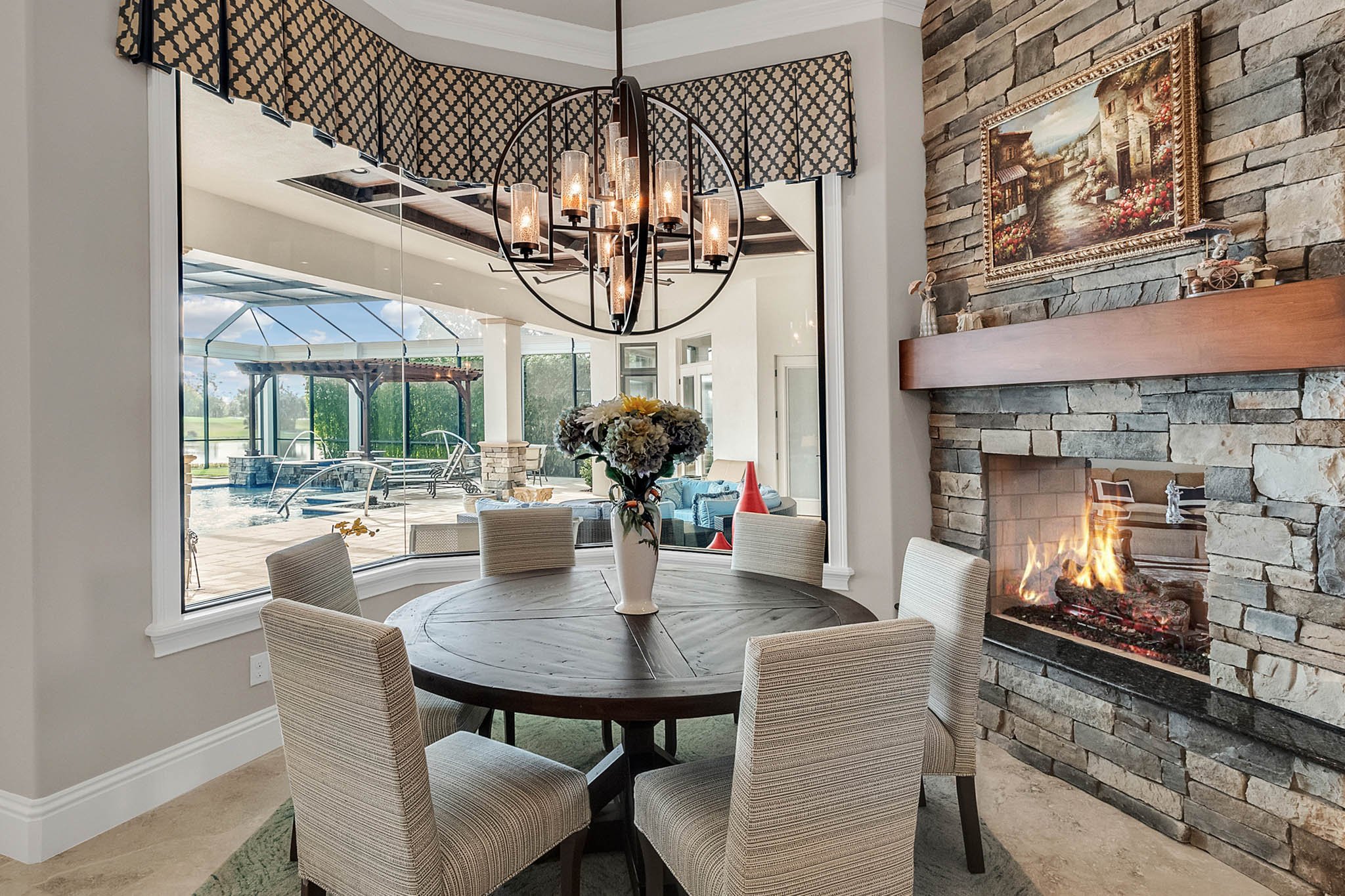 The breakfast nook is an ideal spot to place a chandelier or other suspended lighting arrangement. Pendant lights are a trending choice. 
By installing lights directly over the table, you can enjoy sunny breakfasts, even in rainy or cloudy weather. 
Think Outside the Box
Choosing curved tables and seating arrangements can create a more natural look for your nook area and blends easily with the other décor choices inside your home. This type of furniture is especially appropriate for condominiums and smaller houses where squared-off spaces may interrupt the flow of interior spaces and designs.
Consider Diner Style
For a retro look, opting for a diner-style booth and accessories can be a fun way to update your breakfast nook and make a real statement about your style. Choosing traditional diner colors like black, red, and white and investing in wall signs and condiment holders let you enjoy the most authentic diner experience without ever leaving home.
Explore Your Options at Bella Collina
The luxury homes at Bella Collina incorporate stainless steel appliances, exquisite cabinetry choices, and all the amenities you expect from upscale residences. Spectacular views and thoughtful interior design choices make your new home a perfect place to relax and get away from it all.
Bella Collina is a gated Orlando championship golf community that features lakefront estates, golf homes, and lakefront condominiums in a range of prices, with all the expected extras. Contact us online or give us a call today at 407-469-4980 to schedule a tour or to discuss your needs with our team. We are committed to offering the most elegant and extraordinary homes in the Central Florida area.