11 Distinctive Luxury Home Design Features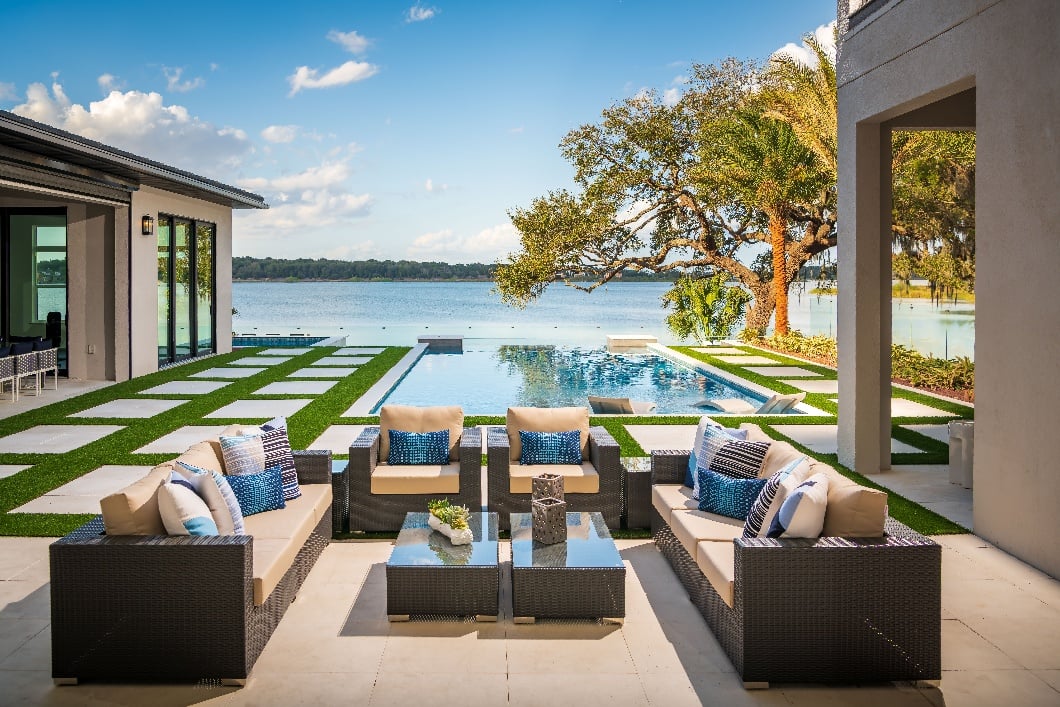 Buying a new home can be an exciting adventure, especially when you are looking for an upscale, luxury home. And what better place to look for a luxury home than in beautiful, sunny Florida.
You'll get the best of all worlds - year-round warm weather, a lush green tropical environment, and magnificent homes in gated communities.
So, what are the characteristics you should look for when searching for your luxury home? This list presents the design elements that discerning buyers consider must-haves or highly desirable.
1. Premium Materials
Inside and out, a luxury home must use high-quality materials noted for their elegant appearance and durability. Typical run-of-the-mill materials like laminate flooring will not suffice.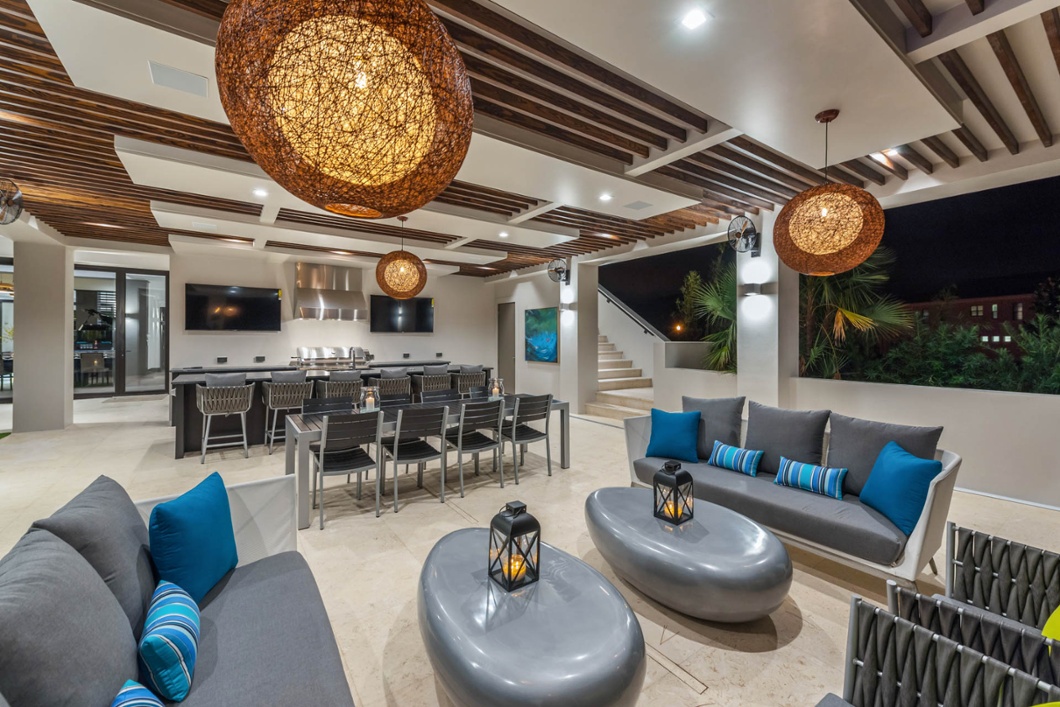 You have plenty of options for premium materials and finishes in your home. The goal is to select the options that work in synergy and provide an exceptional home experience.

Popular luxury materials include:
Plaster walls
Stone tile flooring
Hardwood flooring
Bamboo flooring
Laser cut sheet metal wall panels
Flagstones
Brick
Glass tiles or bricks
Ceramics
2. Architectural Details
Regardless of the materials that you select, the interior and exterior design needs special architectural flourishes that set the home apart from regular homes. However, these details should not be overused. Otherwise, the final look will be too busy.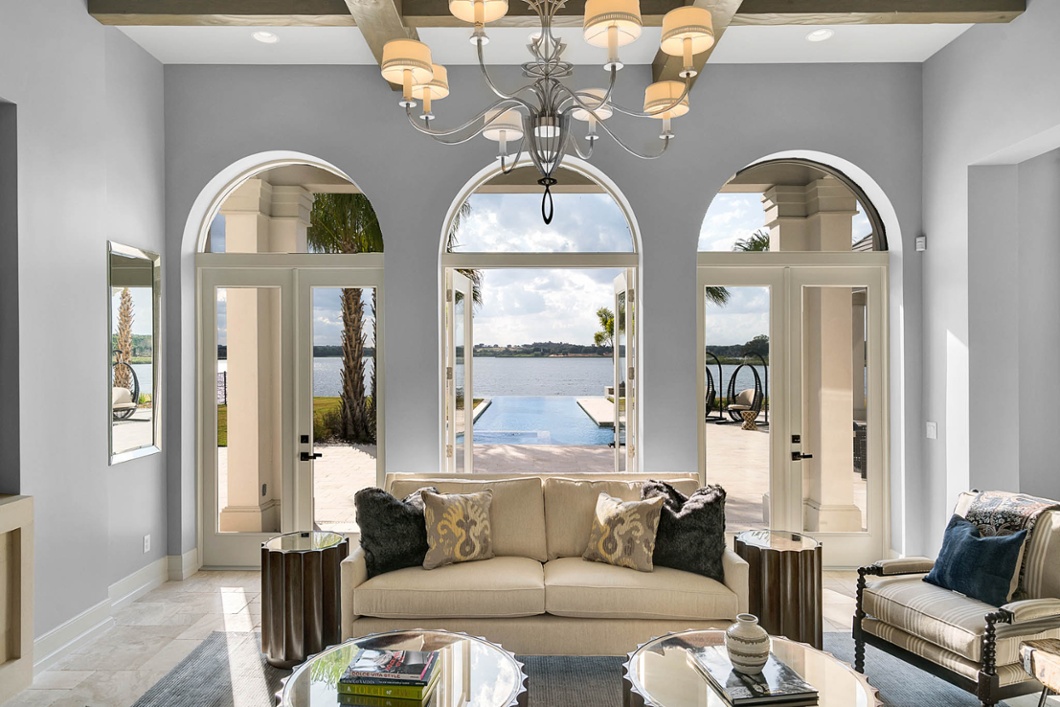 Architectural details produce the greatest effect when used judiciously. They show that extra time and energy were spent creating the space.

Examples of special architectural details:
Archways
Turrets
Pillars
Curved walls
Nooks
Recessed shelving
3. Impressively Sized Spaces
Excess living space is a luxury, and a fancy luxury home by definition needs to make a big impression.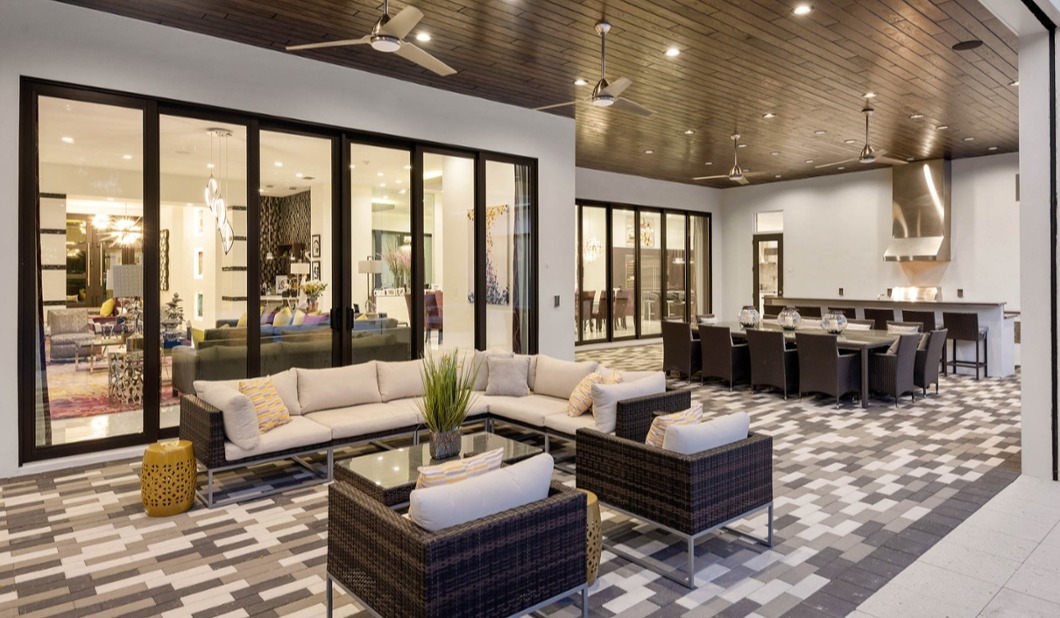 Space gives you the ability to:
Host large gatherings
Display artwork and sculptures
Include a piano
Showcase a beautiful outdoor setting
A big open space creates a sense of magnificence that most dwellings cannot hope to match. However, you don't want to go too far with the open concept. Everyone needs some privacy, which means building separate rooms where they work, play, or relax.
Not everyone in the home wants to listen to your conference call or be distracted by a noisy sports game on a big television. For this reason, when designing the luxury home, you'll want to balance glorious open spaces with privacy and segregation of various home functions.
4. Magnificent Kitchens
No room in a home rivals the splendor and extravagance that can be expended on a kitchen. This is a place to show off premium materials and technology at the same time. It will be a large space where people can gather or caterers can prepare big meals.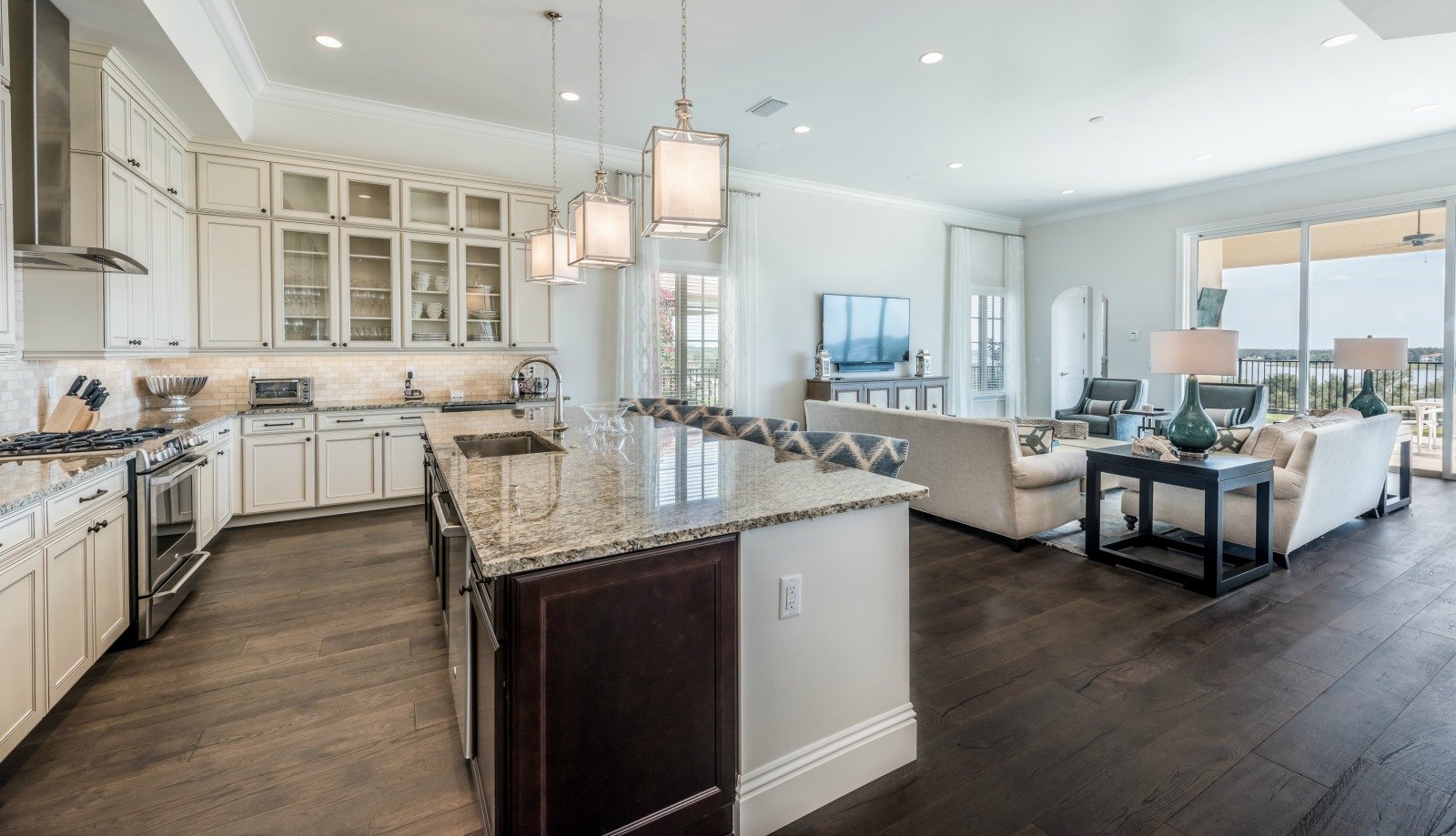 Luxury kitchen trends include:
Granite, quartz, or stainless steel countertops
Tile or hardwood floors
Large island counters
Large ranges with hoods
Tile, stone, or glass backsplashes
One or more large sinks
Hardwood cabinetry
Good lighting design
Butler's pantry
Open shelving for decorative objects

As for kitchen design, you have nearly endless choices in colors and textures. Anything you like is on the table from sleek modern designs to charming country kitchens.
5. Elite Bathrooms
Every bathroom in a luxury home needs to dazzle with high-end materials, style, and function.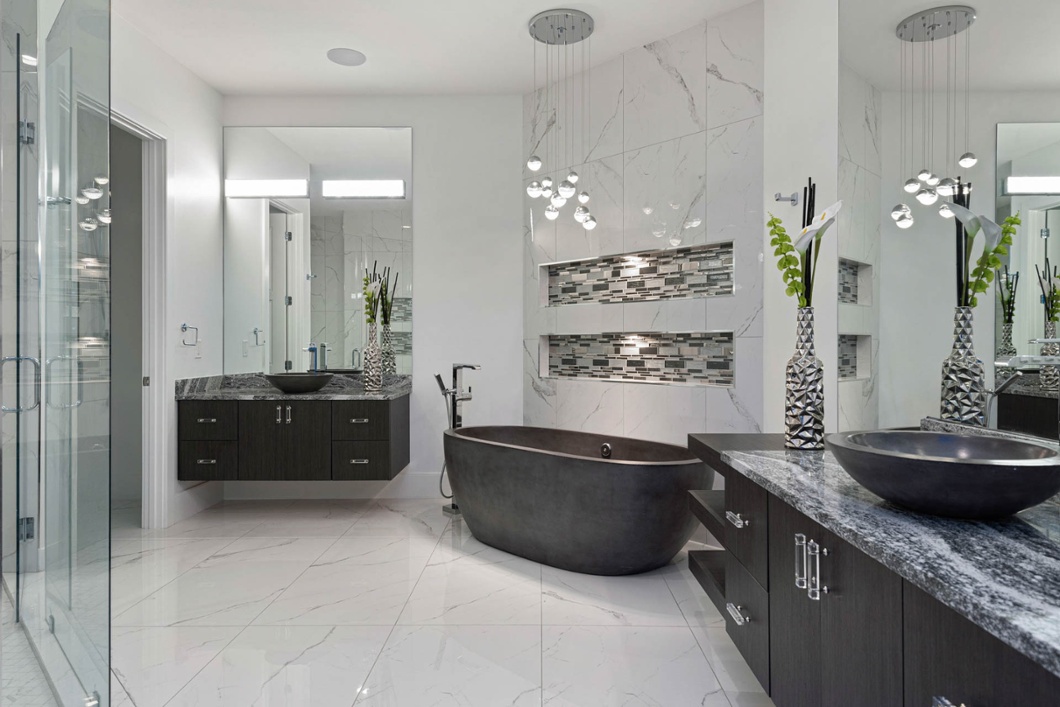 Luxury touches that turn baths into spa areas are:
Soaker tubs
Showers with multiple heads
Steam room or sauna
Bidet
Alcove walls
Beveled mirrors
Touch screen mirrors with televisions
Gorgeous faucets and fixtures
Beautiful light fixtures
Bluetooth speakers
Private windows to let in natural light
Radiant heat flooring
Fireplace
6. Integration With the Outdoors
No luxury home is complete without consciously embracing its outdoor setting. This can be done in two ways:
Liberal use of glass doors and windows between the interior and exterior
Inclusion of outdoor living spaces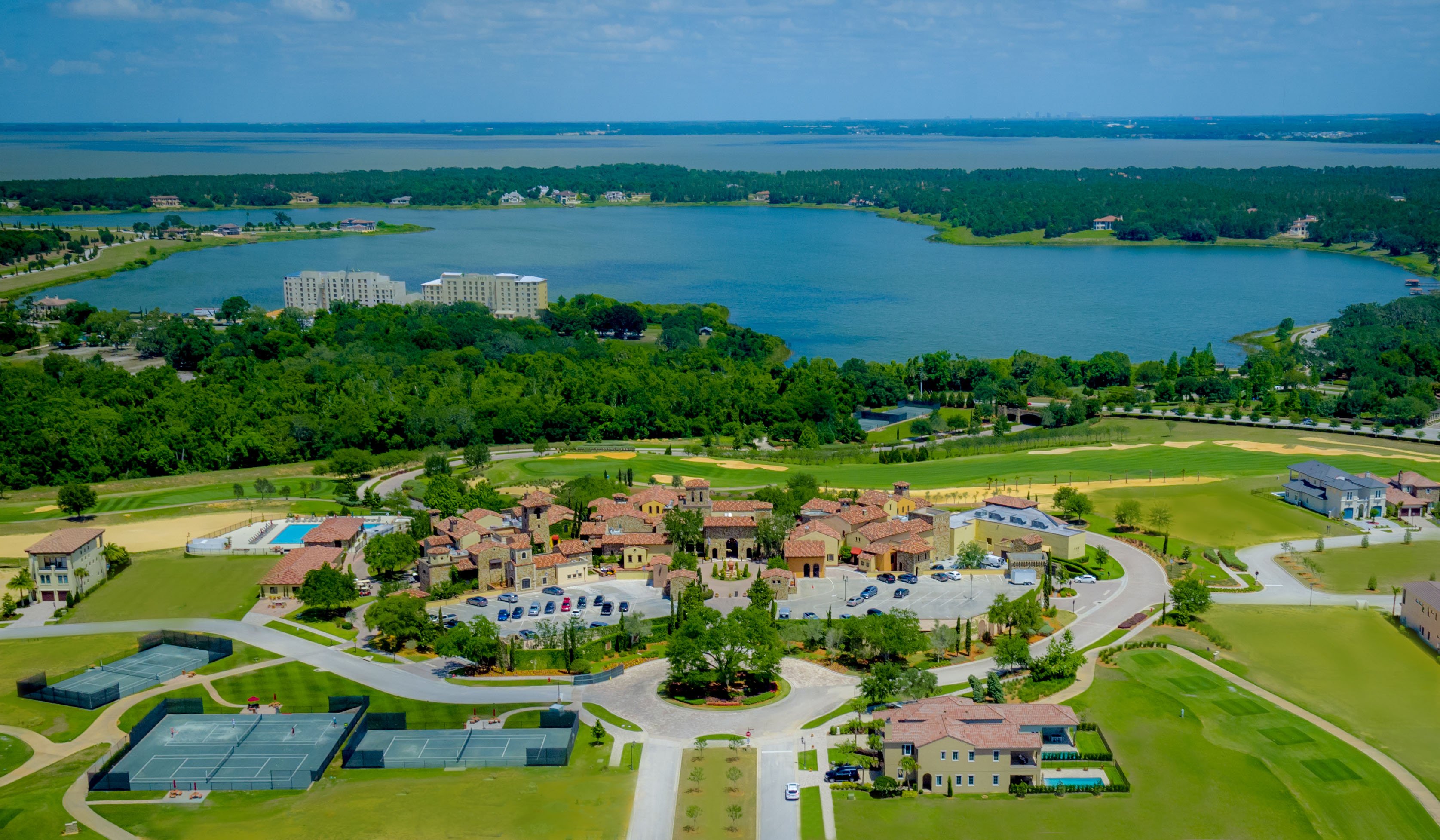 A big trend right now is to use glass to separate a living space from the deck or patio. Whether it's built with multiple sliding glass doors or high-end accordion doors of mostly glass, the point is that you can open the inside to the outside whenever you desire.

Other interior methods of integrating the outdoors include:
Natural stone décor
Potted plants and trees
Skylights
Water fountains
These nature-focused interior design tactics are known as biophilic design principles. They emphasis the use of living plants or foliage-oriented wall art to soothe you with the feeling of being outside.

As for the outdoor rooms that are growing in popularity, you can build:
Outdoor kitchens
Outdoor dining rooms
Outdoor media rooms

7. Advanced Smart Technology and Security
All luxury homes need to be smart homes. Smartness comes from wiring the home with the latest digital control technology for convenience and security.
These systems include Wi-Fi that enables you to operate the system with your smartphone. Additionally, an internet-connected main server provides remote access.

Smart technology in a luxury home allows you to control:
Lighting
Door locks
Temperature
Audio and visual equipment
Window drapes and blinds
You can also have a security system installed that works on the same smart technology. A modern security system can:
Monitor doors and windows
Operate interior and exterior cameras
Alert you to fires or broken plumbing
Run motion sensor lights and cameras
Call for help
Security systems are in high demand due to the peace of mind that they deliver. When luxury homeowners are out of town, they can check cameras, adjust lighting, and lock or unlock doors.
8. Special-Purpose Rooms and Areas
As you design a luxury home, you have the power to include special-purpose rooms, like a library or billiards room, almost like you're making your own real-life Clue game board.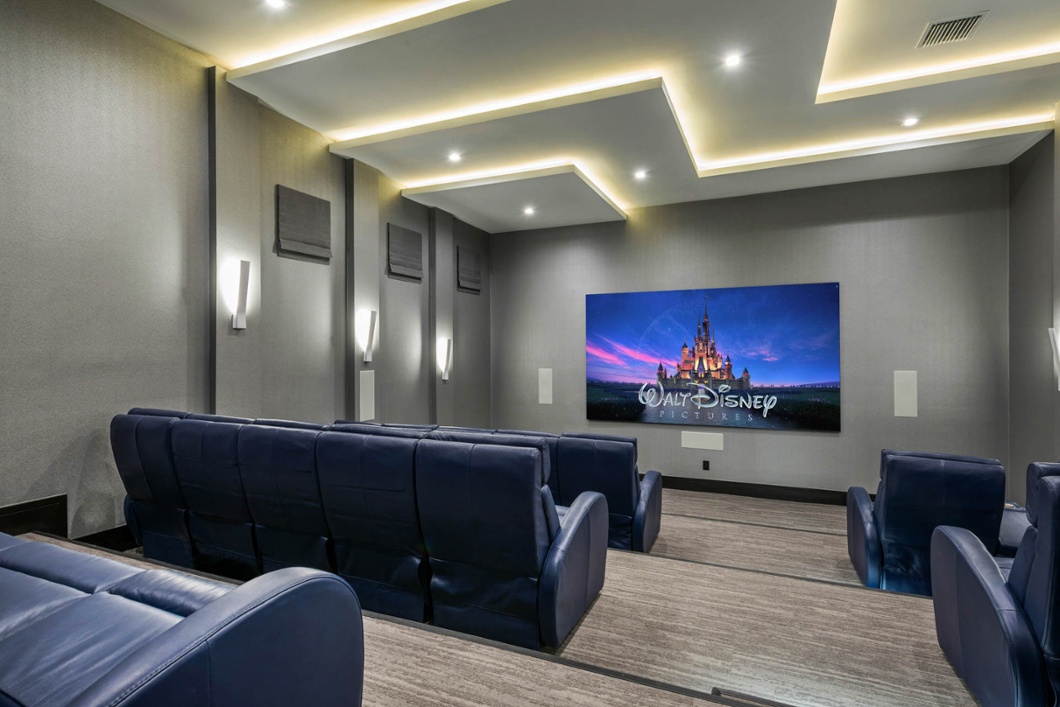 These are some popular specialty additions in luxury homes:
Home office or two
Home theater
Exercise room
Rooftop patio
Master suite balcony
Craft room
Art studio
Recording studio
Audio and video recording areas are increasingly requested today because so many hobbyists and professionals are producing online content.
9. Premium Appliances
Your luxury home will of course include premium appliances, but it's worth mentioning as its own feature because appliances are not only in the kitchen. They can be in the laundry room and outdoor cooking areas too.

Luxury appliance brands:
La Cornue French gas ranges
Gaggenau cook tops and ventilation appliances
MIELE cooking, refrigeration, dishwashing, and laundry appliances
Viking cooking and refrigeration appliances
THERMADOR cooking and refrigeration appliances

10. Dressing Rooms Worthy of Royalty
A full-length mirror on your closet door is not going to qualify as luxury anymore. You need a private space off your bedroom and bath where you can access your walk-in closet and get dressed.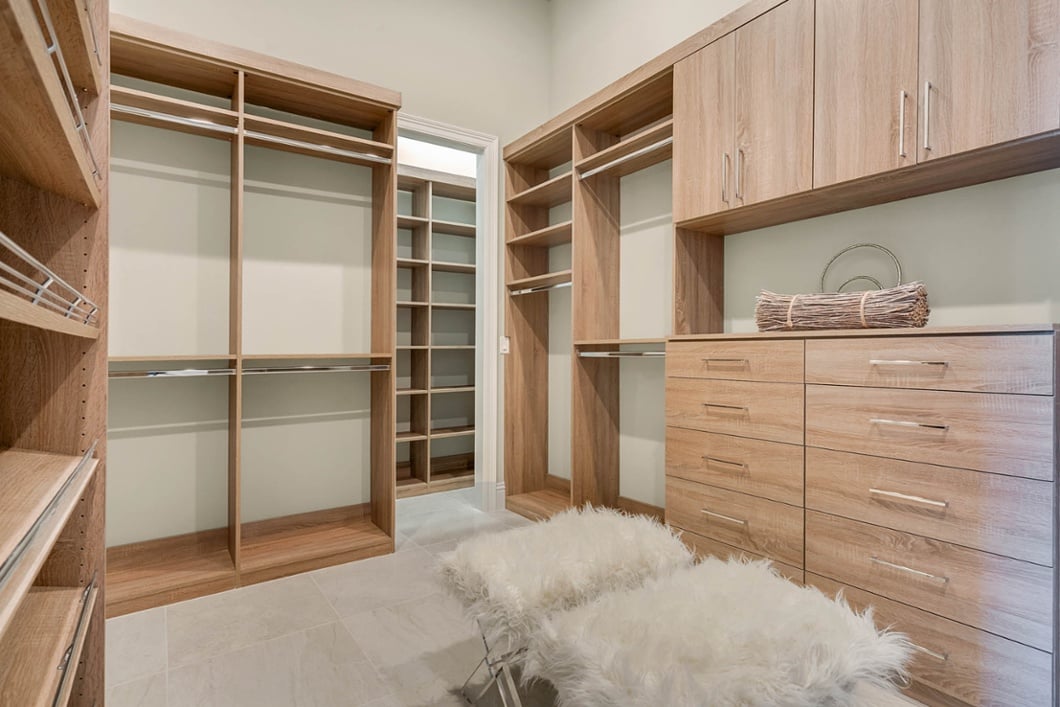 11. Indoor Air Quality Systems
This is a luxury feature that is not visible but improves your quality of life. A superior environmental system attends to heating, cooling, ventilation, and air quality.

Air purification systems that filter out particles or use ultraviolet light to disinfect are a growing trend in home life. They are especially useful in regions prone to wildfires where smoke pollution can be excessive.

People value air purification and filtering for removal of:
Pollen
Pet dander
Dust
Pathogens

Live in Luxury at Bella Collina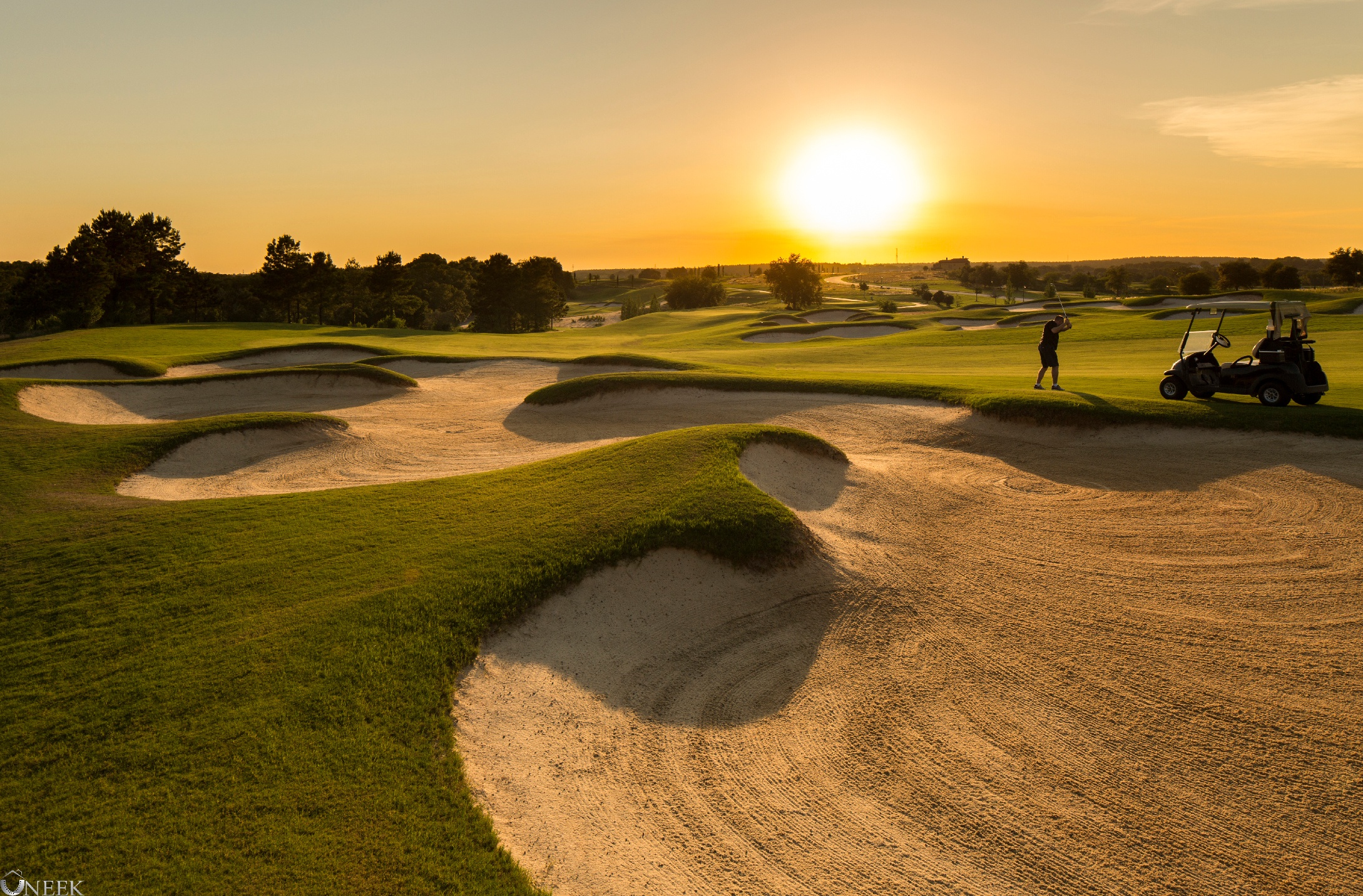 Golfers and outdoor lovers enjoy a refined existence at Bella Collina. Our beautiful private golf community in Central Florida has luxury real estate for sale as well as building sites for custom homes.
Our amenity-rich location features Old World style Tuscan architecture.

We have the motto of "Where Luxury Meets Nature" because of our:
Sir Nick Faldo signature golf course
Private Lake Siena
Piazza overlooking the lake
Scenic walking trails
Mature landscaping
The best part is that peaceful country club living is only a short drive from Orlando. To learn more about our homes and amenities, please contact us.