10 Common Questions Brides Ask When Looking For Their Wedding Dress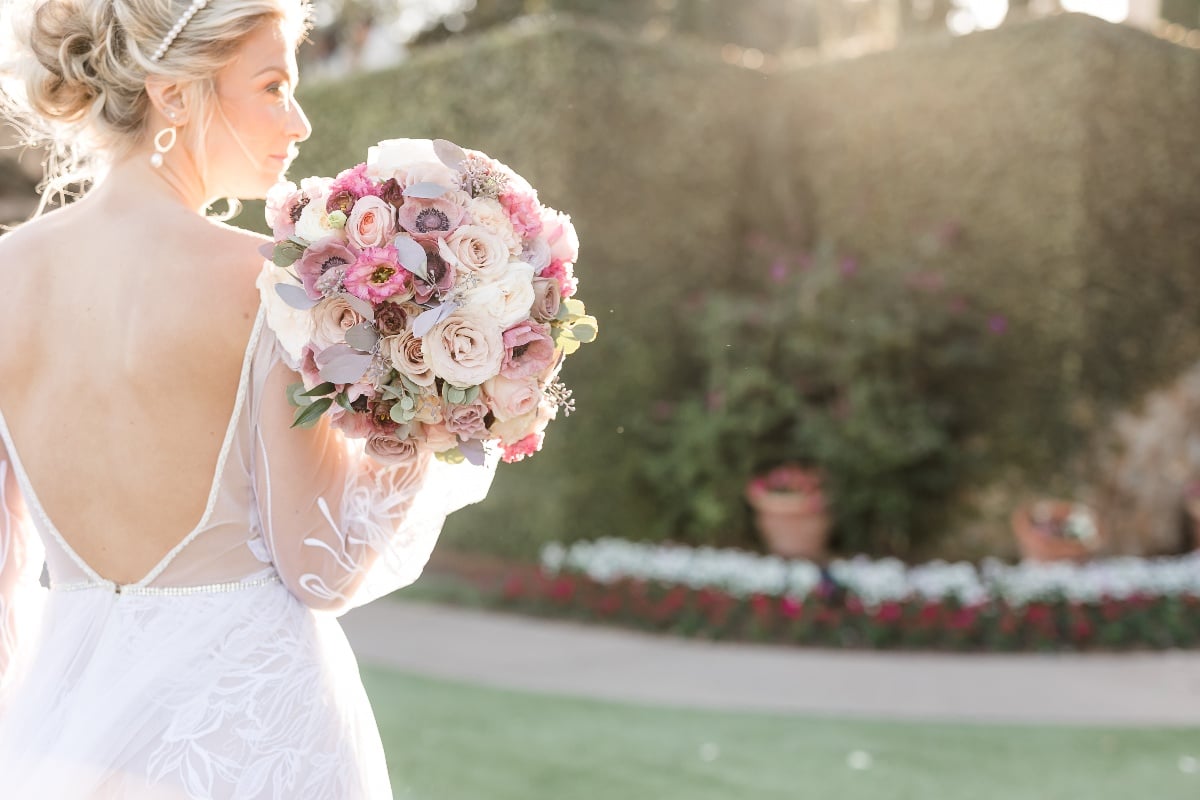 With so many wedding dresses available to choose from, how do you pick the one that's going to be perfect for your big day? You probably have questions regarding how many you should try on, what style is best for your body type, and who should tag along to help you shop.
Wedding dress shopping can sometimes become overwhelming, but don't feel discouraged. Instead, prepare yourself before shopping, by checking out these commonly answered questions that brides have asked.
When should I start looking for my wedding dress?
It's never too early to begin getting ideas for what type of wedding dress you would like to wear. Find inspiration within pages of magazines, online, or in bridal boutiques.


How long will it take for a custom dress to be made?
If you have your heart set on wearing a custom-made dress, instead of one that's been pulled from the rack, you should expect to receive your dress in 6-9 months, depending on the designer you choose. If you need your dress quickly, make sure you mention it before making your appointment, so you don't make an unnecessary trip down to the shop.


Do I need to make a bridal shop appointment?
Although some bridal shops allow walk-ins, it's best to set an appointment, so you're guaranteed enough time and personal attention to browse the different dress selections. Even if you work full time during the week, most places are accommodating and can book your appointment in the evening or on the weekend.


Should I bring anything with me for my first appointment?
If you already have the perfect pair of shoes picked out, or maybe even ones with the heel size you know you prefer wearing, you can bring those to your first appointment. They will help guide you in the length of dress you should choose. Also, if you are going to try on a figure-hugging dress, wear a good, smooth fitting bra or body-shaping underwear to get an idea of what you will need to wear underneath to help compliment your assets.


Who should I bring with me to dress shop?
Dress shopping can take a long time, so you want to make sure whoever tags along won't become impatient or get bored. Stick with just a few people who understand your style and whose opinions you really value. If you bring too many people with you, the varied opinions could confuse you and possibly get you upset.


What style dress is best for my body type?
There are lots of different guides online that recommend what style dress would look best on you based on the shape of your body. An experienced sales staff can help you pick out different dresses they feel would be the most flattering on you. It's very common for a bride-to-be to think they want a particular look, only to try on other styles, ultimately choosing something completely different than they had initially planned.


How many dresses will be in my size to try on?
Most bridal shops carry tons of dress samples in all different sizes. If you're worried you won't have enough options, you can always ask various stores when you call to make your initial appointments.


How many dress fittings will I need?
Depending on the style of dress, you may have one or two fittings unless your weight changes and you have to make alterations to accommodate the changes. The first fitting will be when you originally find your dress and the other fitting will be about a week before your wedding.


Will I still be able to find a beautiful dress on a tight budget?
There are gorgeous wedding dresses made to fit all types of budgets. If you don't mind buying a dress that isn't brand new; you can always check second-hand stores for a gently used dress. With the money you save from purchasing a lower-cost option, you can afford to get alterations done so that the dress fits perfectly to your body.


How will I know when I've found "the one?"


If you try on multiple dresses, but your mind keeps returning to a particular one, then that's the dress for you. You want to pick out a dress that makes you feel both beautiful and special; one that you feel comfortable sitting and dancing in. If you can envision yourself walking down the aisle towards your future spouse and standing in it while saying your vows, then you have found "the one."



Now that you've found the perfect partner and the perfect dress, it's time to book the perfect venue. Bella Collina is your ideal Central Florida wedding location. We offer many gorgeous indoor and outdoor spaces perfect for all of your wedding needs. Contact us today to learn about the Orlando wedding packages we provide and to begin planning your dream wedding today.