The Traditions of the Quinceañera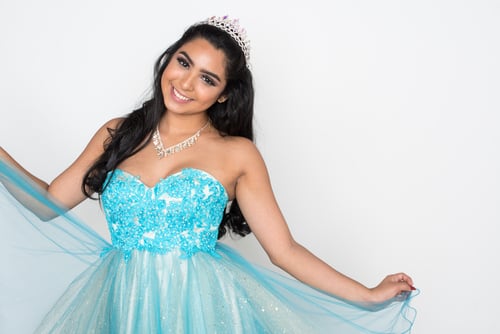 A quinceañera is an important milestone in a young girl's life. In many Hispanic cultures, the celebration recognizes her entry into womanhood by officially granting her permission to use makeup, wear heels, and perhaps even date. Coinciding with her 15th birthday, the coming of age event is rich with tradition and involves all the pomp and circumstance of a wedding. If you're planning a quinceañera for the first time, here are some traditions that you'll need to include to make your little girl feel like a princess on her first big day.
Common Traditions
These are a few traditions common with most quinceañeras.
The Gown and Accessories. The Quinceañera traditionally wears a ball gown, with her Court dressed in gowns and tuxedos. Traditional accessories used to enhance her elegance range from tiaras, sashes, and medals to cross necklaces and a scepter.
The Court. Much like a bridal party, the Quinceañera gets to invite close friends and family to participate in her Court of Honor. The Quinceanera's Court of Honor can be comprised of either girls and boys, all girls (Damas), or all boys (Chambelanes).
The Ceremony. The quinceañera celebration traditionally begins with a religious ceremony. This typically begins as mass at a Catholic Church and is followed by a reception. During the ceremony, a special Kneeling Pillow is placed for the young girl to kneel upon.
The Reception. Hosted at a home, venue or banquet hall, the reception is a festive gathering of friends and family that includes music, food, dancing, and several ceremonial traditions.
The father/daughter dance- Much like a wedding reception, the father and the Quinceañera share a dance.
The waltz- A choreographed waltz is typically performed by the Quinceañera and her Court.
The changing of shoes- The father (or close male relative) of the Quinceañera ceremoniously changes her flat shoes to high heels. This symbolizes her transformation from a little girl to a young lady.
The toast to the daughter- Known as the brindis, guests are invited to offer their congratulations and best wishes by toasting the Quinceañera.
The last doll- A decorative keepsake, the quinceañera doll symbolizes leaving childhood things behind and is often gifted to a younger sibling.\
The Gifts- Traditional quinceañera gifts include a Bible or prayer book, rosary beads, and flower bouquets.
Celebrate in Style
Whether you are planning a small gathering or an extravagant celebration, Bella Collina is the perfect venue to host your quinceañera celebration. We offer multiple areas to accommodate parties of any size. Enjoy a stress-free, intimate evening with friends and family in our Tuscan-styled atrium, dance under the stars on our grand lawn, or party the night away in our stylish formal ballroom.