Top Luxury Bathroom Design Ideas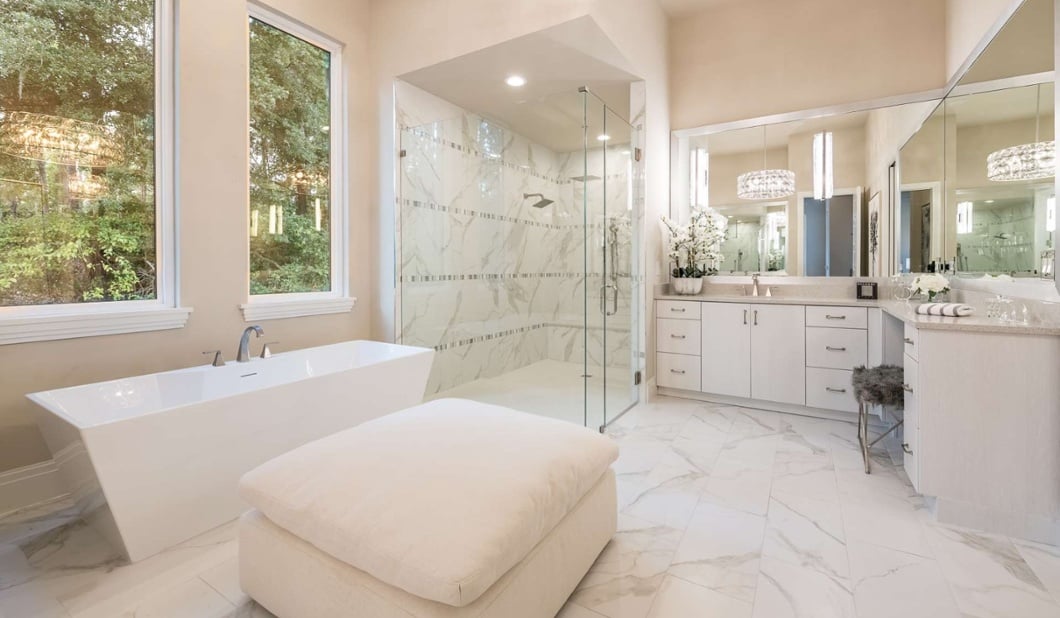 A luxury bathroom is beautiful but is also designed to please the senses and deliver a blissful experience. To achieve this synergy, choose premium materials and finishes that work together and will stand the test of time.
Much of your selection depends on the overall style of your home, but some luxury materials fit beautifully with any architectural design.
Luxury Bath Design Principles
Designing a luxury bath goes far beyond choosing a toilet, sink, and shower/tub. You're creating a space for private relaxation and supreme functionality, whether applying makeup or taking a bath.
1. Symmetry and Balance
The placement of every feature should never feel disjointed. The flow between every element in the room should be seamless. Items should not be too close together or too far apart. You may achieve symmetry with a central focal point or a balanced division of elements along each wall.

2. Space
A luxury bathroom is larger than a typical one. The space is an integral part of the luxury. You have floor space to move around or share the space with a partner without bumping elbows. There is also room to install a separate shower and soaker tub and possibly include a chair or chaise lounge.

3. Hydrotherapy
Bathing is one of the primary activities in a bathroom, but it becomes an indulgence with hydrotherapy components in a luxury bathroom. This may be achieved with features like multiple showerheads or steam.

4. Beautiful Surfaces

Nothing will impact the look and feel of your bathroom more than the surface material.
Designers make big impacts with:
Marble
Quartz
Tile
Glass
Exotic hardwoods
Bamboo
From floor to ceiling and everything in between, the material covers the biggest space and complements your finishes, lighting, and equipment.

5. Layered Lighting

Layered lighting is a must for today's luxury bathroom designs. Brighter task lighting is perfect for shaving, applying makeup, and more. Lower ambient lighting creates the ideal atmosphere for unwinding after a stressful day at work or a great round of golf.
Carefully consider where you want to place different lighting. Imagine different needs based on the times of day, particularly if you have a skylight or exterior-facing windows.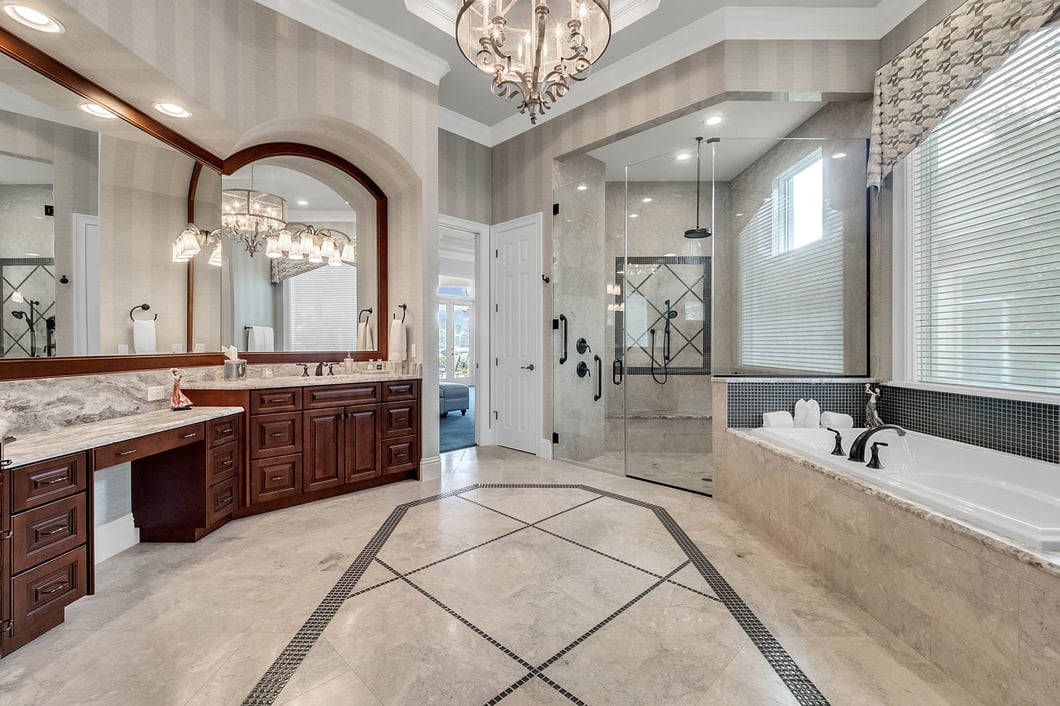 Magnificent Luxury Bath Ideas
There is a plethora of luxury bath ideas and luxury bath components. Here are a few of the top trends.
Double Showers
Double showers are becoming the norm for the primary or master bath. You and your partner will never have to schedule shower times again. Your own adjustable showerhead awaits you in this extra-large shower enclosure.

Other luxury design elements to consider in a double shower include:
Stone or tile enclosure
Frameless glass doors
Larger entrance
Bench

Soaker Tub
A gorgeous soaker tub frequently serves as the focal point of an elegant, modern bathroom design. It is longer and deeper than a traditional tub and invites a long, relaxing soak for a more therapeutic result.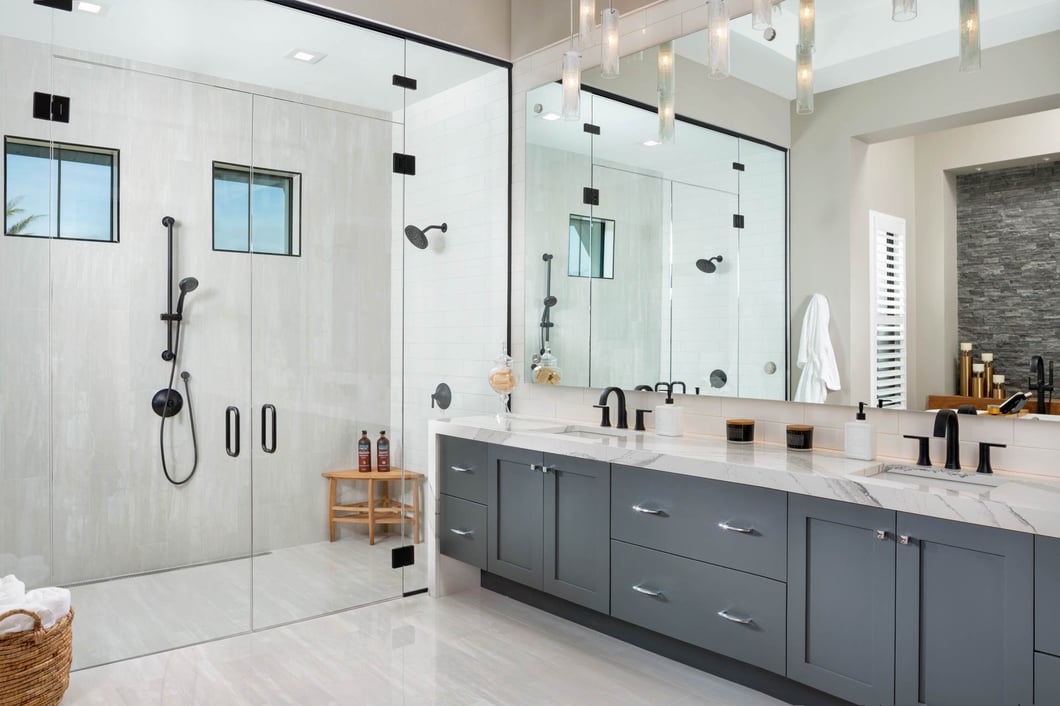 Wet Room Bathroom
A luxury wet room bathroom creates an open space designed to get, well, wet. Barriers are typically removed between the floor and the shower. Watertight materials are used from floor to ceiling to prevent any damage.

All flooring is made with a subtle slope toward the floor drain. Floating vanity cabinets work nicely in a wet room because they expose the floor entirely.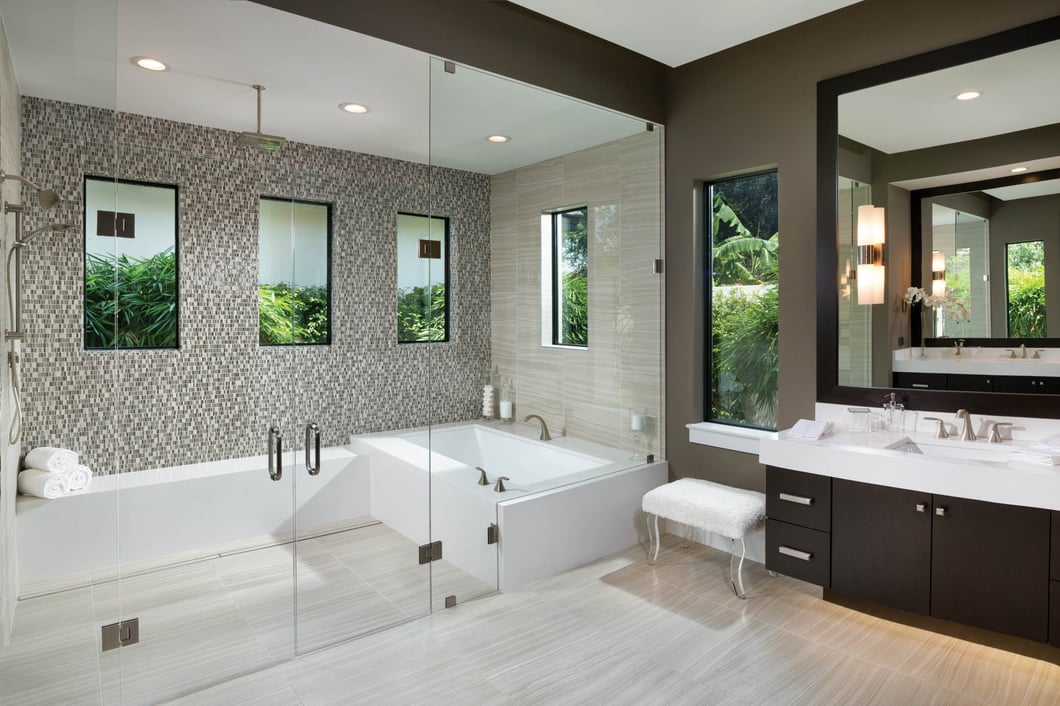 Wall Mural
Art stimulates the soul, and a custom mural can enhance your moments spent in the bath. A mural can also tie the design together if you are using a historical theme or color scheme.

Mosaic Backsplash or Floor
Mosaics are made from tile, glass, or stone, which makes them suitable art pieces for humid bathrooms. A mosaic backsplash is another opportunity to draw together the room's colors or create a dramatic focal point. Similarly, a mosaic in the center of a bathroom floor enhances the regality of the space.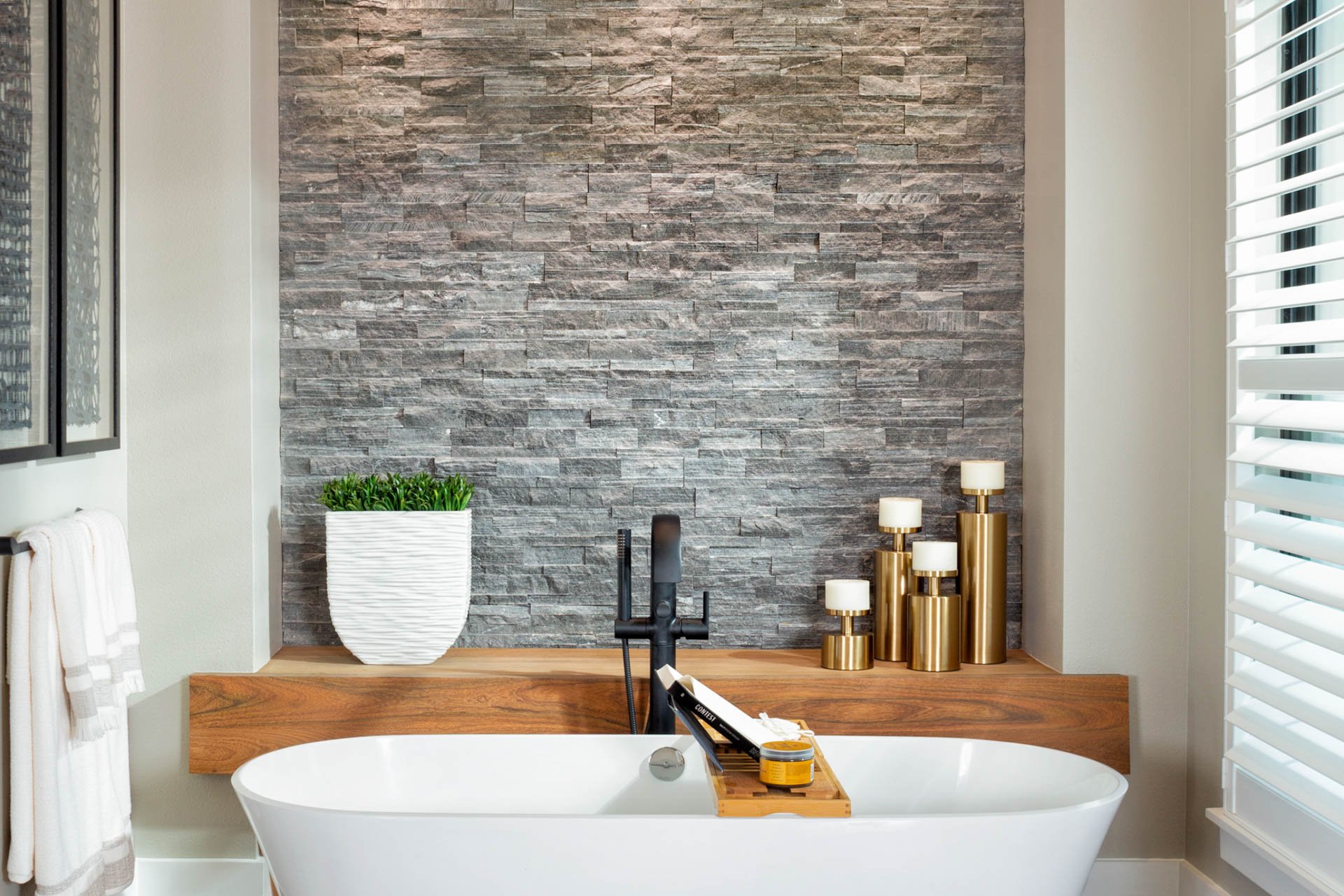 High-End Lighting and Plumbing Fixtures
Lighting fixtures and faucets for luxury bathrooms are essential to the overall look and feel of the space. When selecting them, think about both their appearance and utility.
Current faucet trends:
Touchless
Wall-mounted sink faucets
Freestanding bath faucets
Waterfall faucets


Popular finishes include:
Chrome
Bronze
Black matte
Brass
You should coordinate the faucets with the lighting. For example, chrome faucets with bronze light fixtures would look disjointed. On the other hand, you have more options for light fixtures that are not limited to metal housings.

Bathroom lighting options include:
Chandelier
In-shower lights
Under-cabinet lights
Night lights
Shelf lighting
You may coordinate the lighting with other fixtures throughout the house or choose a unique finish for the bathroom.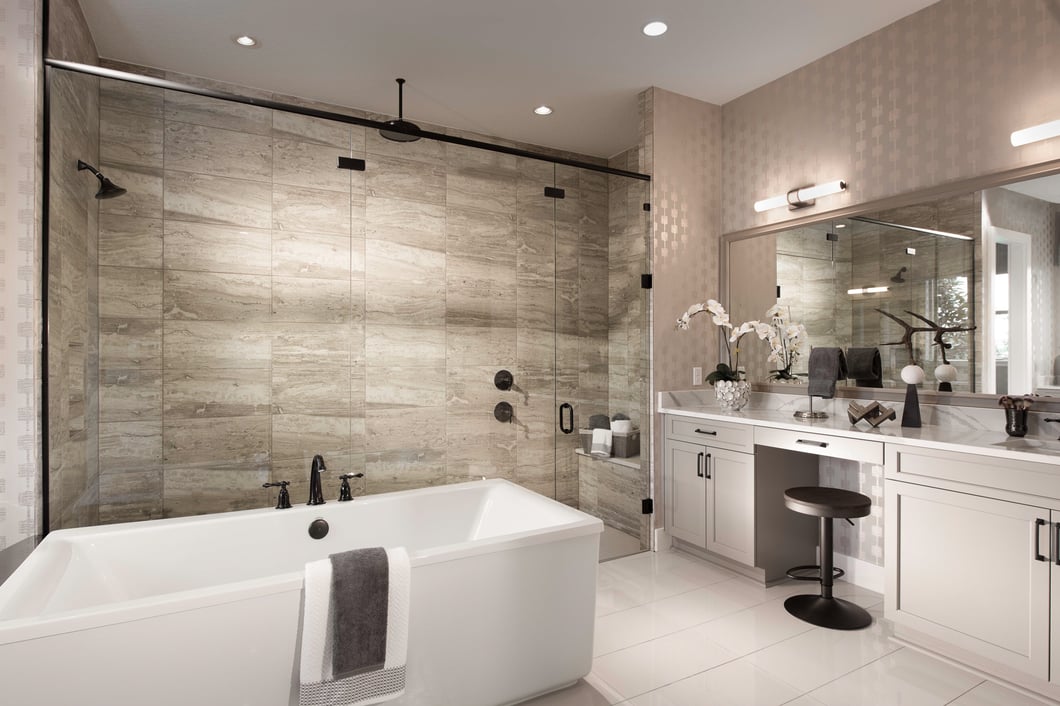 Sauna
Take your luxury bathroom beyond hygiene and grooming and enjoy the health benefits of a sauna. Regular use of a sauna is associated with the following:
Detoxification
Skin health
Greater fitness
Relaxation, including lower heart rate
Of course, you must exercise caution in a sauna because too much exposure to high heat has ill effects. When done right, your sauna transforms your bathroom into a spa.
Indoor-Outdoor Bathroom
This luxury bathroom allows you to create a Zen-like setting by opening into an outdoor space. Incorporate an outdoor shower or covered soaking tub that is viewable and accessible from your master bath.


Luxury Home Designs in Beautiful Central Florida
Design the perfect luxury bathroom – or two – in your custom home design at Bella Collina. Located conveniently outside Orlando, Bella Collina embodies luxury in a gated golf community.

Enjoy scenic lakes, beautiful landscapes, walking trails, a full-service spa, and more. Play tennis or a round of golf on the Sir Nick Faldo-designed championship golf course. Then you can relax in that beautifully-designed luxury bathroom.

Contact us to schedule a visit to Bella Collina and find your future home.