Say 'I Do' to a Sustainable Future: 8 Eco-Friendly Wedding Ideas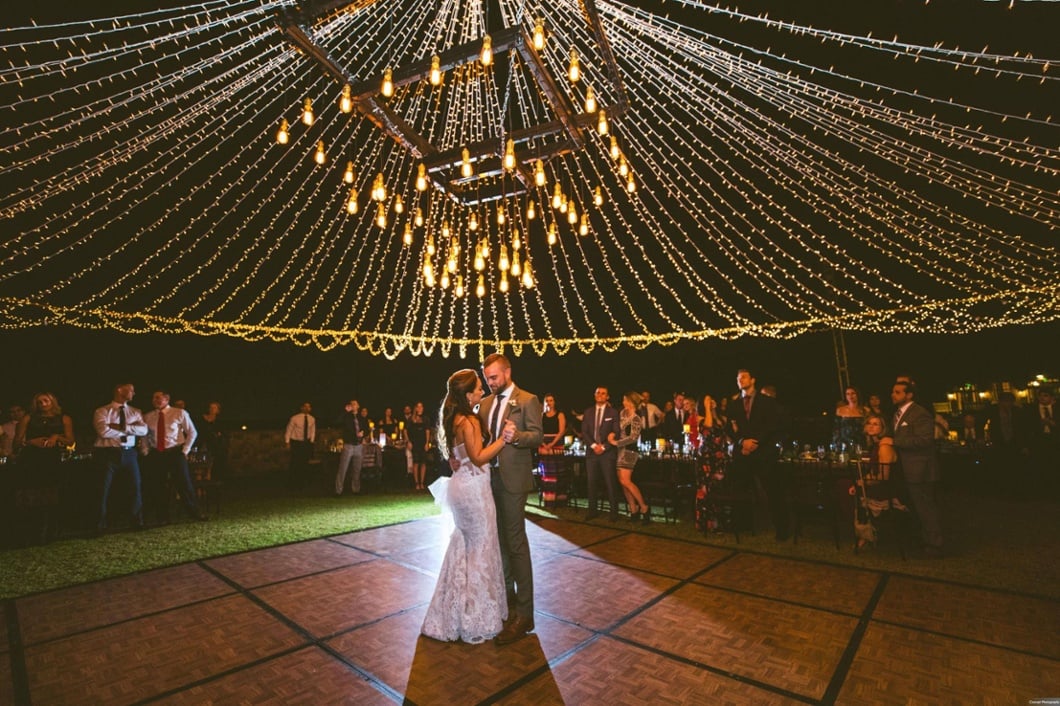 It's easy to lose sight of sustainability in the midst of the commotion that is wedding planning. However, many notable ways exist if you'd like to minimize your wedding's carbon footprint. From the engagement to the bridal shower and the wedding ceremony to the reception, there are several ways to choose sustainability mindfully. Take a look at some of the ways you can plan an eco-friendly wedding.
Use Eco-Friendly Stationery
One of the many ways brides and grooms can improve sustainability is by choosing eco-friendly stationery. If you consider your wedding plans, from the engagement to the bridal shower to the wedding reception, you will undoubtedly use many paper products.
Thankfully, there are various options instead of bulk-produced cardstock. In terms of stationery, here are some of the areas you can choose more eco-friendly options:
Invitation suites which include invitations, RSVP cards, accommodation options, directions, weekend itinerary, and envelopes
Shower and reception menus
Thank You cards
Table place cards
Consider printing your wedding documents on recycled paper or alternative materials such as seed paper that can be planted after receipt or other creative mediums such as edible chocolate invitations. You can also choose to work with designers and stationers who are committed to sustainability.
Another option in our current climate of techie saturation is to send electronic invitations instead of paper ones. Further, using QR codes, keepsake photos, or painted seashells could be fun instead of printed place cards and menus. These options reduce the pollution and waste created by producing paper products.
Eco-Friendly Registry Options
Whether you're registering for a bridal shower, housewarming, or wedding gifts, there are two approaches in terms of sustainability. The first way to reduce your carbon footprint is to mail out these invitations on recycled and/or biodegradable stationery. Respectfully requesting that gifts be delivered unwrapped is a great way to reduce paper waste further.
Pitch the idea of a "display shower" where all gifts will be artfully displayed for guests to preview. Not only will you reduce paper waste, but you'll also reduce the time spent unwrapping gifts, and, inevitably, you'll increase the time you can spend with your guests.
Furthermore, be sure to register for gifts that will help you reduce your carbon footprint in your daily life. Gifts that promote eco-awareness include zero-waste cookbooks, an aero garden, composting essentials, and energy-efficient small appliances, to name a few.
By hosting eco-friendly, no-gift-wrap events and registering for sustainable-living gifts, you'll help your wedding gifts see how important reducing your carbon footprint is to you.
Thrifted Wardrobe
Admittedly, the thrifted wardrobe route isn't for every bride and groom; however, if you have an eye for upcycling, this is another way to be mindful of the environment when wedding planning. Shopping for a gently used wedding gown, bridesmaids' dresses, and other articles reduce the waste produced by buying these items new.
An heirloom wedding dress or tuxedo is another way to avoid shopping new. Imagine walking down the aisle in your grandmother's vintage wedding gown or your mother's altered dress. Besides the heads you'll surely turn, wearing an heirloom dress is an eco-friendly wedding idea.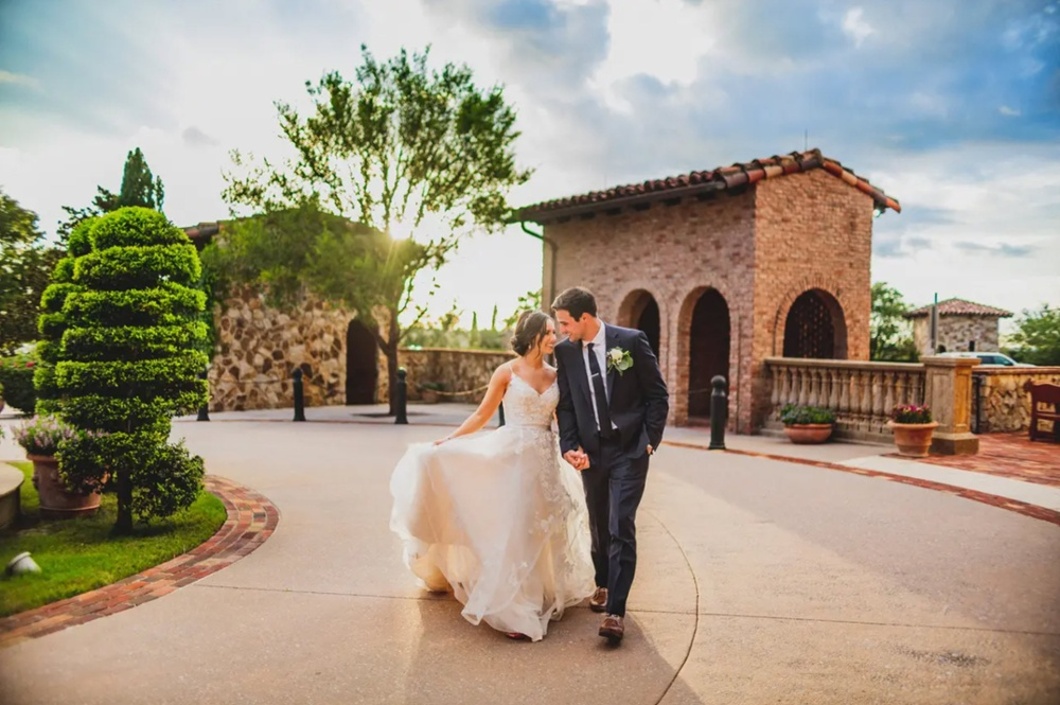 Plan an Outdoor Reception
Planning a midday shower, ceremony, or wedding reception are great ways to minimize your affair's energy consumption. Late spring, summer, and early fall weddings are an excellent time for mild temperatures and sunshiny days.
Not only will the sun provide warm, radiant rays, but it also provides the best natural lighting for photos. If rainy weather is a concern, outdoor party tents add charm and protection from the elements while providing natural lighting.
Another benefit of planning an outdoor affair is that you can reduce waste by leaning on the area's natural landscaping instead of purchasing decor that will end up in the local landfill.
Food Considerations
One of the many things your wedding guests will gush over for years to come is the food. So although you certainly shouldn't skimp when it comes to food, there are some less obvious ways to reduce waste.
For starters, choosing a plated dinner instead of a buffet reduces wasted food. Nevertheless, hors d'oeuvres stations, passed appetizers, and dessert bars can produce excess. Discuss with your venue the possibility of providing takeout bags to guests, feeding the vendors such as DJs and photographers, or even donating to local homeless shelters.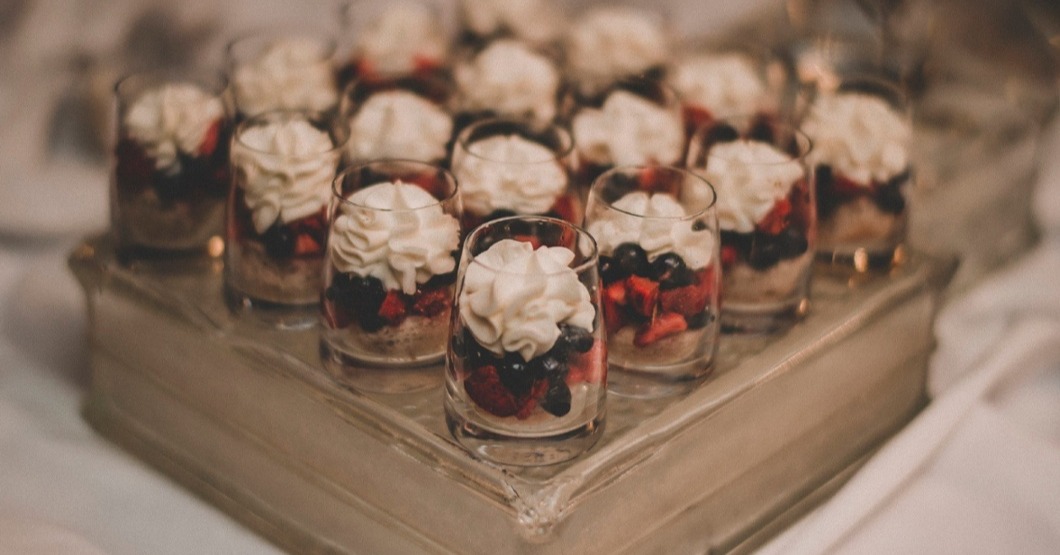 Eco-Friendly Favor Ideas
It's always nice to thank your wedding guests with a favor, but it's easy to get carried away with knick-knacks that inevitably get trashed. Sustainable or consumable gifts are the way to go regarding wedding favors. Check out some fun, eco-friendly favor options:
Food favors such as candies, cookies, pretzels, popcorn, cakes, or pastries
Gourmet coffee grounds, bottles of bubbly, or shooters
Flower seed packets, a potted succulent, or an herb sapling
Customized reusable gifts such as totes, glassware, or bookmarks
Crafted gifts like homemade soaps, lotions, candles, or extracts
If you prefer a minimalist approach, you could scratch the wedding favors altogether and donate to a charity. Besides being eco-friendly, this is also a nice way to commemorate departed loved ones; donate in a loved one's name to remember them on your special day. This is both sustainable and heartfelt.
Donate Decor
Wedding decor, like stationery, is another place where weddings accrue a lot of waste. From centerpieces to candles and flowers to lighting, wedding decor can quickly mount.
Some ways to incorporate eco-friendliness into your decor are to choose potted plants over cut flowers and work with local vendors to reduce transportation waste and cost.
Despite your best efforts, if you wind up with decor you'll likely never use again, donate decor instead of trashing it. Check out your local social media outlets, where you'll easily find brides on a budget who will happily take leftovers off your hands.
Select an Eco-Friendly Venue
The most important thing to do in terms of booking your ideal eco-friendly wedding is to work with vendors who value your desire for sustainability. This is specifically important when choosing a wedding venue.
When touring venues, be sure to ask questions about the establishment's current eco-friendly practices and their willingness to adhere to your whims.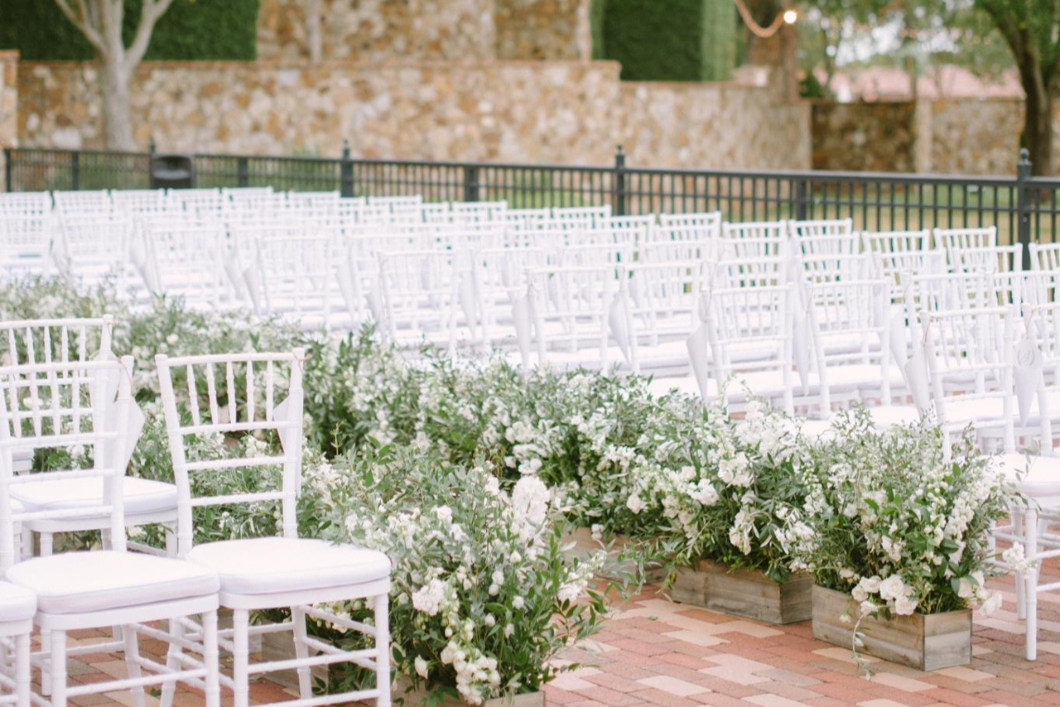 The Perfect Location Eco-Friendly Florida Wedding Venue
Located just outside Orlando, Florida, Bella Collina is a luxury wedding venue that can bring your sustainability visions to life. Bella Collina's natural setting on a magnificent, pristinely-landscaped golf course is the perfect backdrop for your "green" wedding.
Call the wedding professionals at Bella Collina today to find out how they can tailor every detail of your eco-friendly wedding to perfection.