Exploring Outdoor Wedding Venues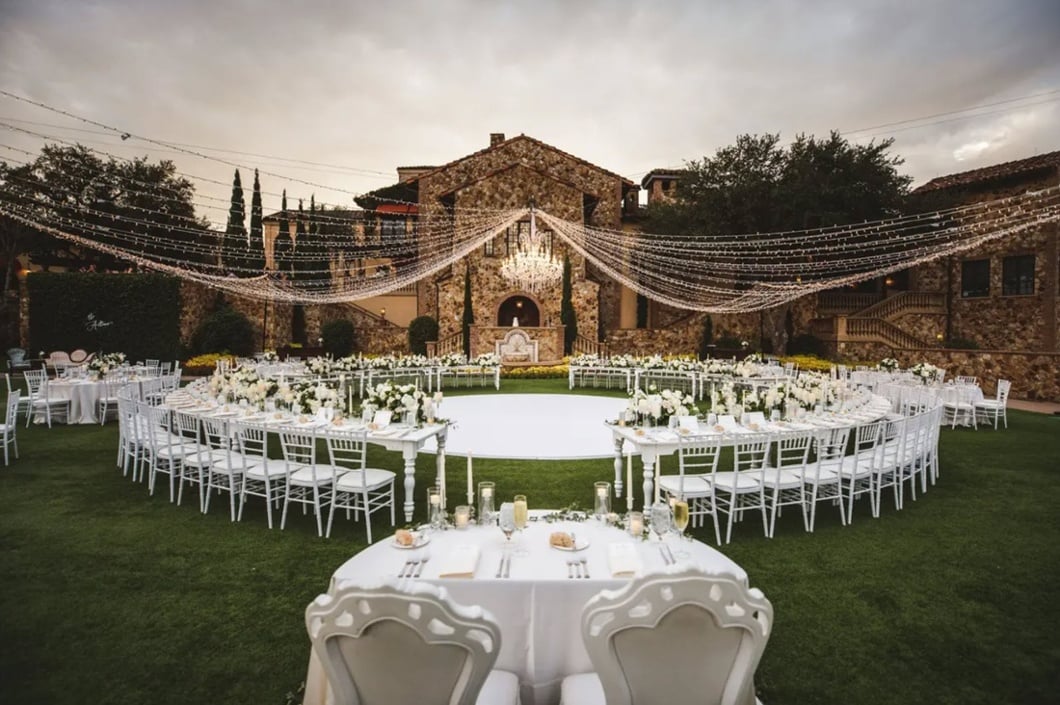 Immerse yourself in the magic of exchanging your wedding vows in a breathtakingly beautiful outdoor location, where vibrant landscapes and lush surroundings will bring your wedding dreams to life.
Although some couples may have concerns about choosing an outdoor venue that goes beyond just the weather, it's important to note that with the right setting, an outdoor celebration can be absolutely perfect.
If you're considering outdoor wedding venues, here are some key factors to keep in mind.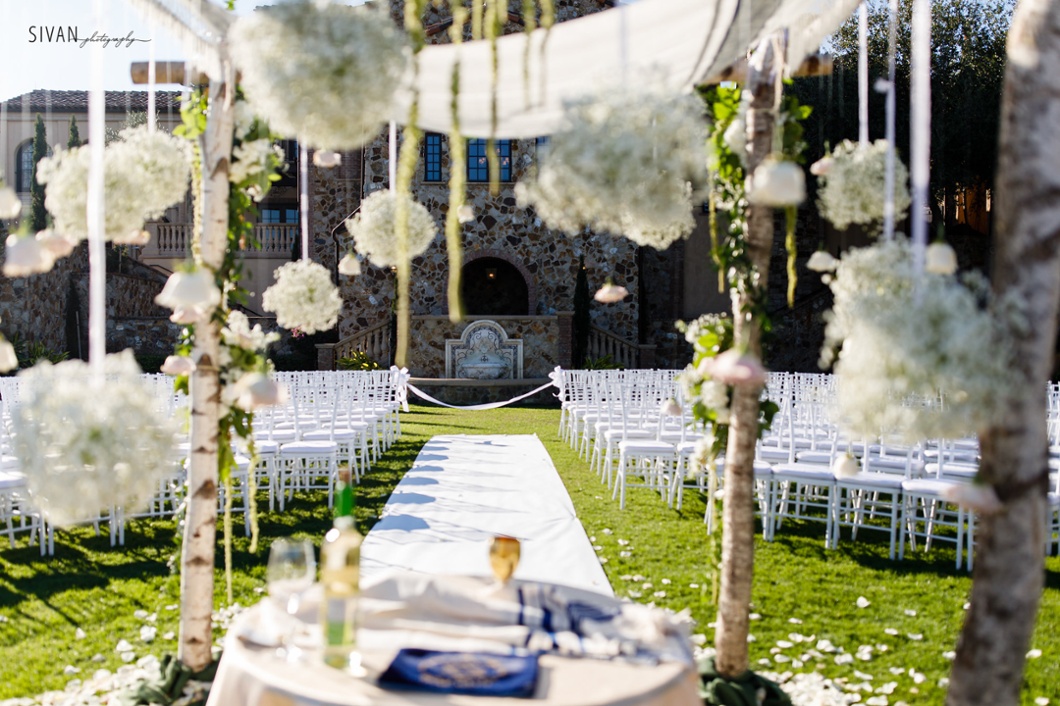 Accounting for Weather
Although we can't control the weather, we can definitely prepare for it. Weather is undoubtedly one of the greatest concerns couples have when planning an outdoor event, so doing the right research is imperative.
When researching outdoor wedding venues, look for ones that have a reputation for successful events. Read all the reviews and ask the venue to see pictures.

If the weather takes an unexpected turn on your special day, outdoor venues with weather shelters like pergolas, awnings, tents, and overhangs will ensure that your event can still proceed seamlessly. It's important to consider whether the venue provides in-tent heating or cooling to keep your guests comfortable in any weather conditions.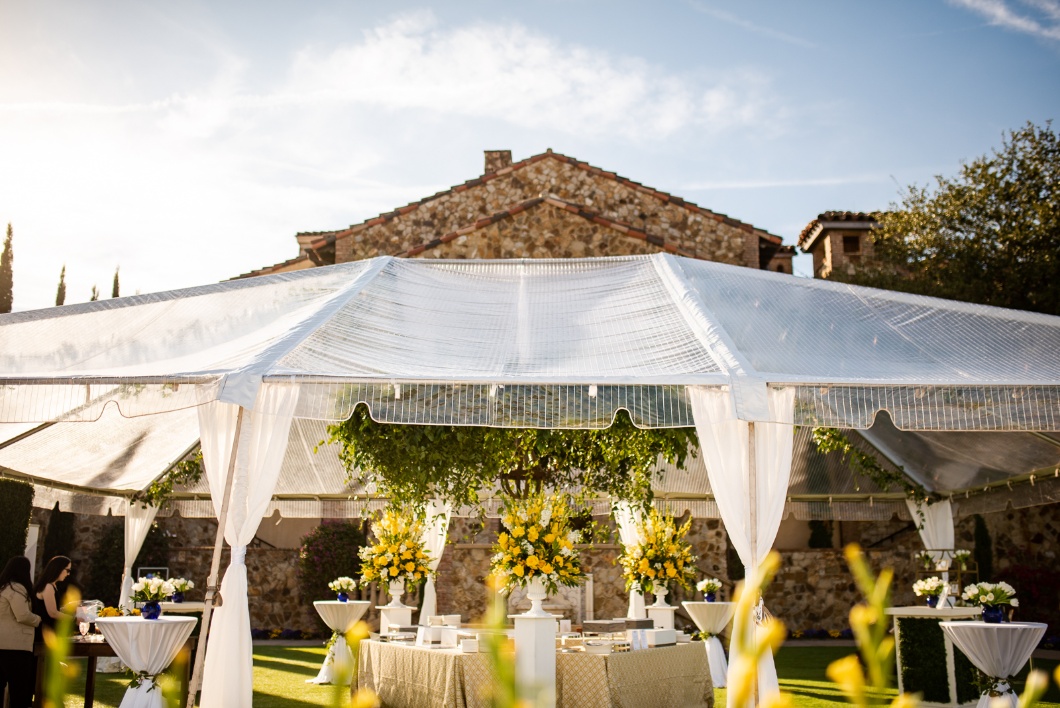 Additionally, inquire if the venue has indoor spaces available in case the weather becomes too inclement for an outdoor celebration.
It's also important to take into account whether there has been rain in the week leading up to your event, as this could create messy, muddy, and wet conditions. Find out if the venue takes this into consideration and lays flooring to ensure a smooth and enjoyable experience for you and your guests.

In places where the weather gets cooler, be sure the outdoor venue has heating features such as fireplaces, firepits, or patio heaters to keep guests cozy. When it comes to the unpredictable nature of weather, it's always wise to have a well-thought-out backup plan in collaboration with the venue.
The Venue's Accessibility
There are two crucial factors that should be taken into account when it comes to accessibility.
Will terrain and walking distances allow all of your guests to easily navigate event spaces?
Specifically, think about elderly guests, pregnant guests, parents pushing strollers, and guests with disabilities. It's a good idea to test the walking distance from parking lots or drop-off zones to your event space. Spaces with long walks from parking to the event, or uneven terrain that could make it difficult for some guests to traverse, may not be good options for your outdoor wedding.
Restroom accessibility.
Think about the distance from your ceremony and reception space(s) to the restrooms. Will they be easily accessible to your guests? Does the venue have handicap facilities that can accommodate a wheelchair and two people for guests who may require assistance? You may not want a venue that requires a long trek from the party to the restroom. Likewise, if restrooms are positioned close to your event, are they adequate for your number of guests? Lastly, think about your accessibility to restrooms as a bride; wedding gowns can be cumbersome and may require more than typical stall space for maneuvering.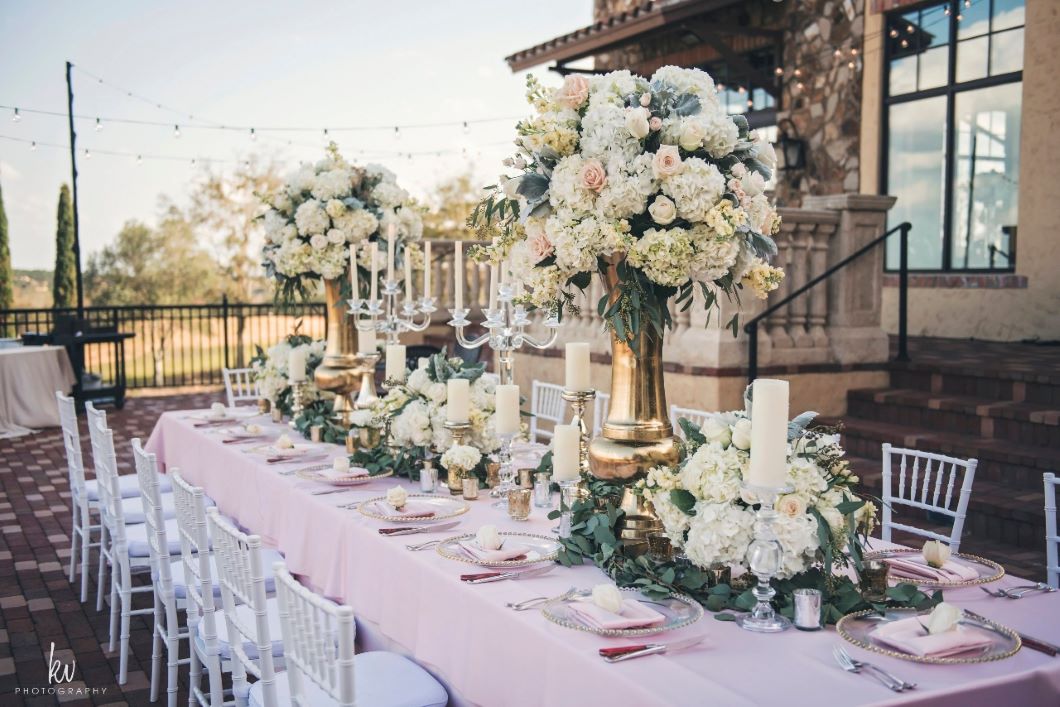 Landscaping & Views
The beauty of nature is truly enchanting in an outdoor venue, and nothing is more inviting than the carefully tended landscaping. When you visit a venue, especially if it's in a different season than your wedding date, don't forget to inquire about the landscaping during that time of year. However, regardless of when you visit, the attention given to the landscaping is a reliable indicator of the experience you can expect on your special day.

Verdant, lush landscaping will provide a beautiful natural backdrop for your ceremony and reception photographs. So take note of venues with bountiful flowers, greenery, and bright colors. An added perk of choosing an outdoor venue is that the beautiful landscaping can help reduce the cost and stress of wedding decorations.

While landscaping is important when looking into outdoor wedding venues, it's also important to look beyond the venue to the surrounding area. No matter how beautiful an event space is, if it overlooks eyesores, you may think twice before booking the venue.
Waterfront, hillside, beach, and wooded views make for a much better wedding atmosphere than a nearby shopping mall or highway. So be sure to take it all in when exploring outdoor wedding venues.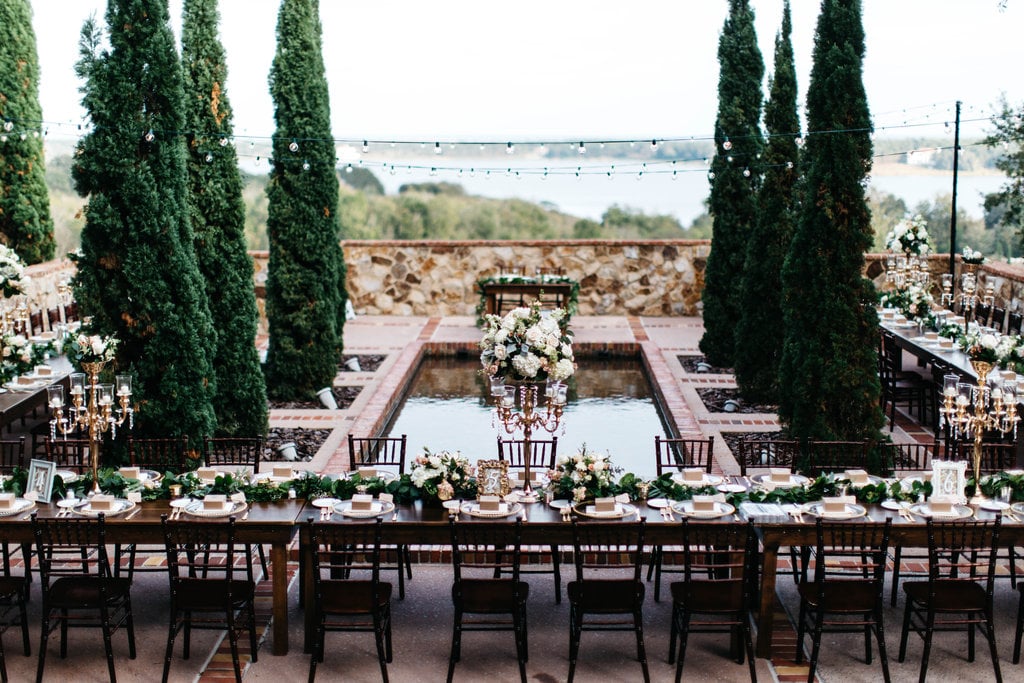 Privacy
Venues that specialize in weddings may schedule multiple events on a given date. Although this may work splendidly in some cases, this could be a concern when planning an outdoor event. Some questions to ask venues in this regard include:
If other events will be hosted at the same time, will an alternate indoor space still be available in case of bad weather?
Will your outdoor space have to share its space with guests from other venues? For instance, will your event have its own restrooms?
Will it act as a thoroughfare in any capacity? In other words, will guests from other events have to pass through your event for any reason?
If the venue is open to the public in any capacity, is there a way to prohibit commingling and ensure event privacy?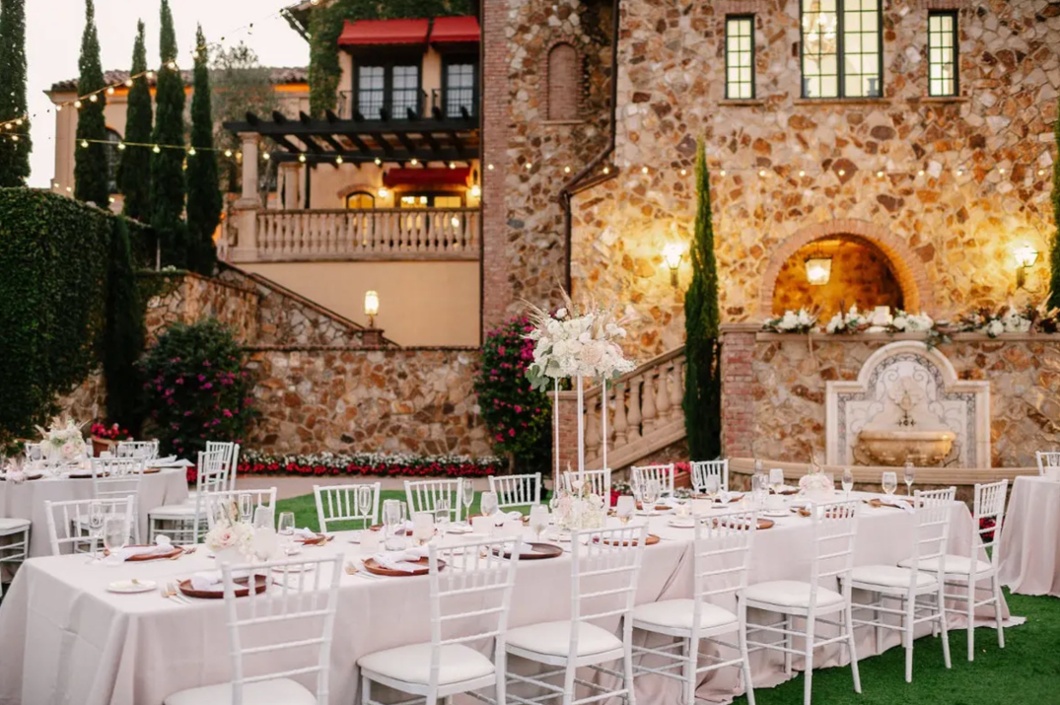 Choosing the Best Outdoor Venue
If you're searching for outdoor wedding venues, why not start with the breathtaking beauty of luxury golf courses? These venues offer a naturally enchanting setting for your special day, boasting stunning event spaces, picture-perfect backdrops, and awe-inspiring scenery that will make your celebration truly unforgettable.
Nestled in the picturesque landscape of Florida, Bella Collina is a luxurious golf community that serves as the perfect backdrop for your outdoor wedding. With its pristine golf course, captivating landscaping, and elegant clubhouse, this venue offers a range of outdoor spaces to suit your preferences. What's more, Bella Collina goes above and beyond by providing on-site accommodations for your guests, ensuring a seamless and convenient experience for everyone.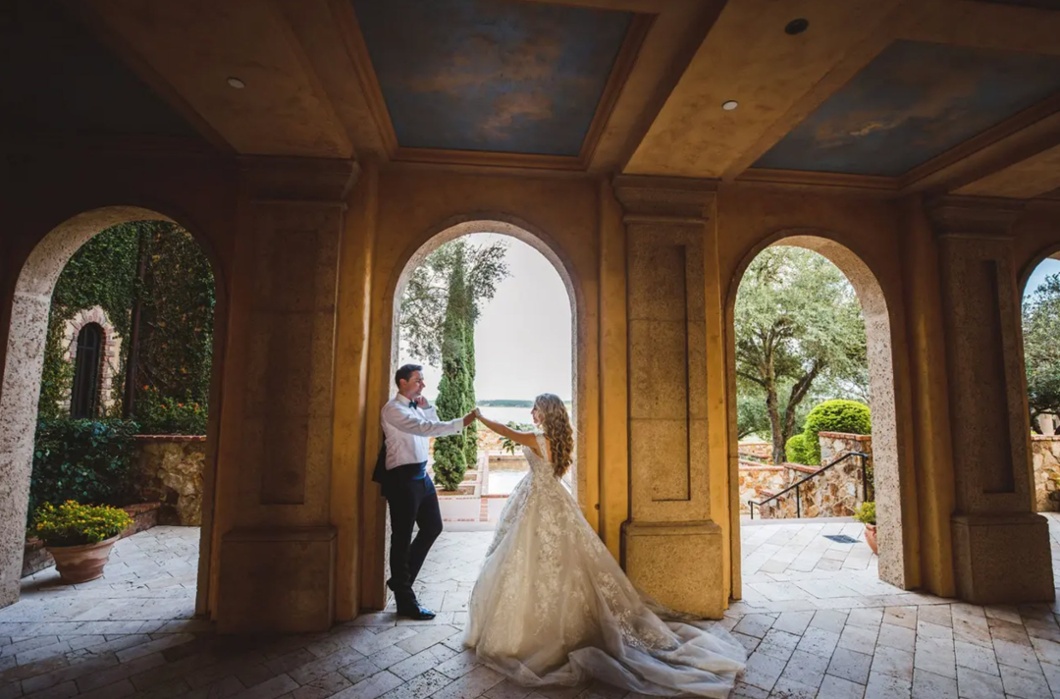 Bella Collina offers a variety of outdoor spaces that are ideal for your wedding ceremony and reception. From the magnificent grand lawn to the charming Italian-inspired verandah, as well as a picturesque lakeside venue, you have plenty of options to choose from. And if the weather doesn't cooperate, there are several indoor spaces available as well, ensuring that your special day will be perfect no matter what.
If you're searching for one of the most breathtaking outdoor wedding venues in Florida, make Bella Collina your first (and quite possibly your only stop.) You won't be disappointed!