Community Overview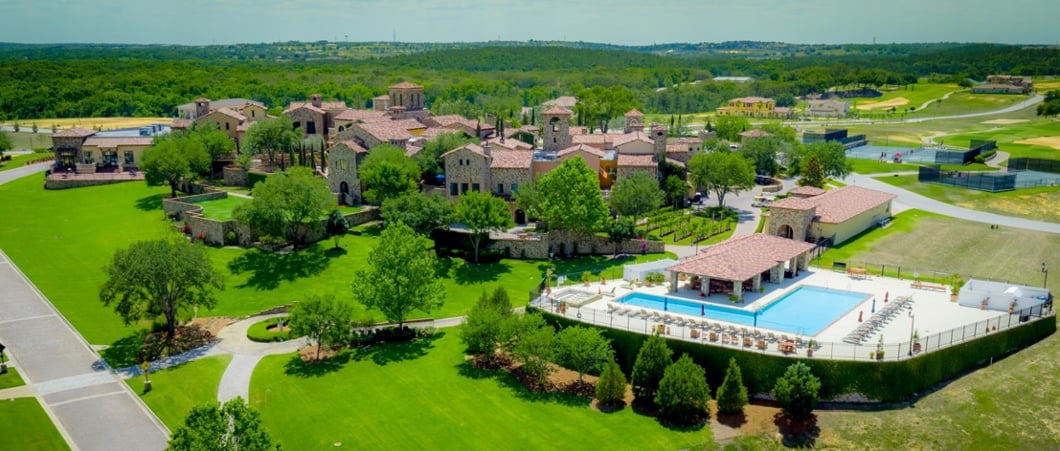 From the moment one enters Bella Collina's guard-gated entrance, it is quickly evident there is something special about this private lakefront and golf community less than 30 minutes from the heart of Orlando.

Perhaps it's the ancient oak trees and tall slender Italian cypress trees that frame a stunning view of Lake Siena, a private 350-acre spring-fed lake in the center of the community. Then, there's the timeless architecture laid out across Florida's rare rolling hills, highlighted by the community's cobblestone driveway that leads to the 75,000-square-foot Italianate clubhouse that sits atop one of Florida's highest points.

Indeed, one visit to this extraordinary Tuscan-like landscape, and it is evident why so many feel as though they've truly escaped to Italy's most famous hillside region. But this authentic "Taste of Italy" is actually a luxurious Central Florida community that combines the best of private club and lakefront living, suburban convenience to the world's No. 1 tourist destination and world-class resort-style amenities.

The organization behind Bella Collina is private equity firm DCS Investment Holdings. Based in West Palm Beach, Fla., DCS is led by Washington Redskins co-owner Dwight C. Schar, noted businessman/philanthropist who founded NVR, Inc., one of America's largest homebuilding and mortgage banking companies. Schar still serves as the Chairman of the Board at Reston, Va.-based NVR and also sits on the board of directors for the Redskins.

Schar is a dedicated philanthropist whose charitable giving extends to numerous education, athletics and health-related organizations, including George Mason University in Northern Virginia, INOVAA Fairfax Hospital in Virginia, Youth for Tomorrow and the George W. Bush Presidential Library. In Dec. 2014, Elon University in North Carolina announced that Schar and his wife, Martha, proud parents of two Elon students, made the largest single gift in school history when they pledged $12 million to the prestigious campus.

At Bella Collina, the capital commitment is equally as impressive with more than $200 million spent on infrastructure and amenities since opening 10 years ago. To be sure, DCS Investment Holdings spares no expense in creating and maintaining the quintessential private club community, and the iconic clubhouse is indicative of this commitment. Featuring dramatic barrel tile ceilings imported from Italy, intricate stonework custom crafted from Italian experts and a labyrinth of eye-pleasing plazas, fountains, terraces and woodwork, the award-winning clubhouse is truly reminiscent of Old-World architecture highlighted by several dining venues, private wine cellar and much more.

Residents and members also enjoy a number of newly built amenities, including a resort-style pool complex and state-of-the-art health and fitness building known as Sportivo Centro, six Har-Tru tennis courts and a 7,000-square-foot banquet and ballroom facility. And that's on top of Bella Collina's highly appointed spa and salon and 18 holes of championship golf designed by Hall of Fame golfer Sir Nick Faldo.

Another exciting addition to the community's landscape is Siena at Bella Collina, a 100-unit luxury condo development scheduled to open later this year. Featuring three floor plans and prices from the $300,000s, Siena is the ultimate way to enjoy this premier private lake and golf club for those seeking a turn-key, maintenance-free home option.

Amenities notwithstanding, what is so remarkable about Bella Collina is the sense of escape one gets at this quiet country-like setting yet it's just minutes from one of the most dynamic cities in the world, Orlando. Situated on 1,900 acres of pristine South Lake County land, this private community is located between the quaint towns of Clermont and Montverde and just a mile from Montverde Academy, one of the leading private college prep international day-boarding schools in America.

Real estate professional Jerry Barker and his wife, Alyssa, stumbled upon Bella Collina several years ago when their daughter was starting kindergarten at Montverde Academy.

"Once we drove into Bella Collina and experienced the manicured estate and ambiance, we were very impressed," Barker recalls. "But it wasn't until we walked into the clubhouse and experienced the view from the hilltop that we got this overwhelming feeling that we had found our home and knew this is where we wanted to live."

Before you know it, Barker and his wife had a golf course lot picked out and began building their new home.

"Bella Collina is truly a unique and outstanding community," Barker adds. "It's a small slice of Tuscany in the heart of central Florida. Having visited Tuscany and fallen in love with the ambiance, we can think of no better location to spend our lives. As well as the Tuscan feel, Bella Collina also offers us a top-class community and accompanying amenities. The five-star Sir Nick Faldo golf course is pure heaven to an ex-pat Scotsman like myself, and the amenities such as the swimming pool, spa and restaurants make it a fantastic lifestyle choice for our family.
Download Press Release